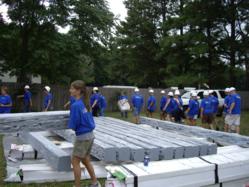 "The people you meet on these builds are amazing. You don't hear enough about that. The volunteers are incredible."
Deer Park, NY (PRWEB) November 14, 2011
FauxWoodBeams.com, the largest online retailer of faux wood ceilings and beams, donated ceiling beams for the November 18, 2011, episode of ABC's "Extreme Makeover: Home Edition." For their 12th collaboration with the very popular home remodeling show, Barron Designs, owner of Faux Wood Beams, provided the faux wood beams that evoked an antique farmhouse look.
"It's impossible to hear the stories behind these projects and not want to do something to help," said Steve Barron, president of Barron Designs.
Dale Dunning started "Jusst Sooup" while in college. Now she gets up every day at 2 a.m., with her husband Ken and son Brooks, to cook for four Delaware soup kitchens, providing comfort to those in need.
When "EMHE" found out that the Dunnings were accomplishing all of this while living in what is essentially a converted "Jusst Sooup" storage facility, Ty Pennington and his team knew they had to help.
The Dunning family dream is to not just have a home for themselves, but a facility where they can cook on a large scale so they can feed more Delaware families. They also hoped for a space large enough to put micro-homes on the property to help people get on their feet and have a garden that can grow supplies for the soup kitchen.
The designers at "EMHE" decided that an old-fashioned farmhouse look would be perfect for the main building. Knowing the quality and realistic texture they get from Faux Wood Beams, the producers turned to Barron Designs yet again to create a king truss to unify the great room in the main house, creating an open, airy, yet cozy feeling for the Dunning's new home.
"An old-fashioned ceiling was the perfect way to create a classic farmhouse," said Steve Barron.
While most designers use faux wood beams as they are – the polyurethane beams are made from molds of genuine timber – "EMHE's" designers wanted to create the look and feel of old farmhouse beams to match the Dunning's dream of having a farm on the property to grow soup ingredients. Knots were painted to appear more pronounced and the beams were given the grayish patina of aged wood. Because the Dunnings spend so much of their time helping others, the low maintenance faux beams were a perfect choice.
"The faux finishers did an outstanding job," said Steve Barron. "The trim carpenters from BZ Construction Services were fantastic. The people you meet on these builds are amazing. You don't hear enough about that. The volunteers are incredible."
"'Extreme Makeover' could do another entire show on the volunteers and everything that happens behind the scenes," said Barron. "It's a real community that accomplishes so much in so little time."
This build was even more challenging than most because it was interrupted by Hurricane Irene. For the first time ever, an "Extreme Makeover: Home Edition" project had to pause to evacuate for safety and then resume.
The Dunning family/"Jusst Sooup" project is one of many collaborations between Barron Designs and "Extreme Makeover: Home Edition" and it's far from the last.
"Why do we do this -- it feels good to give back. We're a family business so doing something special for a family like the Dunnings – I can't begin to describe how good it feels," said Steve Barron.
"Extreme Makeover: Home Edition – the Dunning Family project" will air 8 p.m. ET/7 p.m. CT Friday, November 18, 2011, on ABC. Check your local listings for time and channel in your area.
About FauxWoodBeams.com
FauxWoodBeams.com leads the field of polyurethane wood beam products, ceiling panels and architectural products. Its products have been regularly featured on television shows such as Man Caves" on the DIY Network and numerous appearances on "Extreme Makeover: Home Edition." FauxWoodBeams.com is a subsidiary of Barron Designs Inc., a family-owned home improvement business operating since 1972. For more information, visit FauxWoodBeams.com.
About Extreme Makeover: Home Edition
The Emmy Award-winning reality program Extreme Makeover: Home Edition, now in its 9th season, is produced by Endemol USA, a division of Endermol Holding. It's executive-produced by Brady Connell and George Verschoor. The show airs Fridays from 8:00-9:00 pm ET/7:00-8:00 pm CT on ABC.
# # #