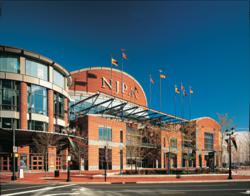 Newark, NJ (PRWEB) November 10, 2011
The New Jersey Performing Arts Center (NJPAC) announced today that veteran producer and presenter David Rodriguez will join its senior management staff as Executive Producer/Vice President effective January 2012.
A New Jersey native, Rodriguez is a nationally regarded producer and presenter of both live and televised events. Prior to returning to bergenPAC in 2005 (he had a previous stint in 1998-2000 when the venue was named the John Harms Center for the Arts), Rodriguez served as Executive Director of the Apollo Theater Foundation, Inc. (2000-2005) and Executive Director of Aaron Davis Hall at City College of New York (1990-1998). He previously held Development, Administrator and Special Projects positions with Carnegie Hall, the Queens Museum, INTAR/Hispanic-American Theater Foundation, and Pro Musicis Foundation, Inc.
"David has been a professional colleague of mine for over twenty years," said John Schreiber, NJPAC's President and CEO. "In his new role as NJPAC's first Executive Producer, he will oversee Programming on behalf of the Arts Center and report to me. As Executive Director of both the Apollo Theater and now bergenPAC, David has produced and presented thousands of concert and theater events, as well as dozens of television specials and recordings based on those presentations. This type of multi platform presenting of one-of-a-kind events is at the heart of NJPAC's future programming strategy. I am excited to welcome David as the newest member of the NJPAC family."
"As we move in a new path for NJPAC, I want to pay special tribute to founding NJPAC Vice President of Programming, Stephanie Hughley, for creating the standard for world-class and community-based programming that has become NJPAC's hallmark," Schreiber added. "And as curator and producer of NJPAC's Alternate Routes series since its inception, Assistant Vice President of Programming Baraka Sele, has brought the world to NJPAC and been a champion of emerging artists and unique cultural pairings."
"Through their extraordinary contributions, the greatest artists in the world have performed in Newark. Their work has set the stage for the next phase of our growth, one that will take advantage of new opportunities in broadcast, recordings and a host of competitive presentations that will continue our tradition of excellence and diversity while increasing box office and other revenue streams."
As Executive Director/CEO of bergenPAC, Rodriguez oversees more than 170 events each season reflecting the diversity of audiences in Bergen County. The artists who have performed regularly at bergenPAC during his tenure include Itzhak Perlman, Diana Ross, Tony Bennett, Joshua Bell, Ballet Folklorico de Colombia, Bill Cosby, Parsons Dance, Steve Martin, and the New Jersey Symphony, among many others. Under his leadership, bergenPAC also offers extensive educational outreach initiatives which impact over 40,000 young people annually.
He initiated a program for national broadcast of live performances and created an operational plan to balance fine arts programming with commercial presentations, broadcasts, and rentals. Through the venue's partnership with The Bennett Studios, Rodriguez has collaborated on broadcasts and recordings including work with kd lang, Tony Bennett, Steve Martin, Jamie Cullum and the Count Basie Orchestra, among others. During his tenure, the Bennett Studios has garnered over 10 Grammy awards and numerous nominations. In addition, bergenPAC has been home for concert events broadcast on HBO, PBS, CW Network, National Public Radio, and A&E, among others. Artists including Foreigner, Darlene Love and The O'Jays have all produced live DVDs from bergenPAC's stage.
"I am honored to join the NJPAC team and be part of one of our nation's true artistic and economic success stories," said Rodriguez. "As a lifelong New Jersey resident, I look forward to expanding artistic and community collaborations while continuing the tradition of bringing unique and thoughtful programs to the State's leading stage. Having collaborated with John Schreiber successfully through the years, I am excited to be part of NJPAC's institutional leadership and contribute to the vision for growth."
In addition to his work at bergenPAC, Rodriguez has a strong history of producing shows for broadcast from the Apollo Theater, including NBC-TV's Showtime at the Apollo (six seasons), AOL's Rod Stewart Live at the Apollo, NBC-TV's Apollo at 80, MTV's James Brown at 70, and additional programs with QVC, HBO, Comedy Central, VH-1, and PBS's Great Performances.
"David knows how to take a project to the next level," said Ray Chew, Musical Director of American Idol and Showtime at the Apollo. "He revitalized the Apollo's legendary Amateur Night – adding a revamped television show, school outreach programs, a national tour and major sponsorship totaling over $50 million. Similarly under his leadership, bergenPAC has become a respected home for recording and broadcasts. He has an understanding of both the artist and the business as it has evolved, and for that reason I always look forward to working with him."
As Executive Director of the Apollo Theater, Rodriguez created or oversaw a variety of important new initiatives including Latin Nites at the Apollo, George C. Wolfe's Harlem Song, The Royal Shakespeare Company's adaptation of Salman Rushdie's Midnight's Children, and Dance Theater of Harlem's first Apollo season. Other special presentations included influential artists such as Prince, Ruben Blades, George Clinton and P-Funk, Ben Harper, Michael Jackson, Eric Clapton, Mary J. Blige, Carly Simon, and Stevie Wonder. In addition, Rodriguez implemented the first Apollo tour of Amateur Night to over 30 cities. He produced Apollo branded special events for the NCAA Final Four and special concerts for all 22 Historically Black Colleges in MEAC and CIAA athletic conferences.
"As Executive Director of the Apollo, David's leadership, energy and commitment helped to build audiences and sponsorship to new levels while creating strong long-term partnerships with the Harlem community," said Richard D. Parsons, Chair, Citibank and the Apollo Theater Foundation and past CEO of Time Warner Inc.
At Harlem's Aaron Davis Hall and Englewood's John Harms Center for the Arts, Rodriguez was recognized as a leader in the development of new works, providing commissioning funds and free space to artists including Max Roach, Ginger Baker, Tony Williams, Bill T. Jones/Arnie Zane Dance Co., Donald Byrd, Fred Ho, Toni Morrison, George Faison, Sekou Sundiata, and Butch Morris. Works commissioned and premiered moved on to a variety of internationally prestigious venues.
"David is a leading presenter in the field with a long history of performing arts presenting and commissioning with Ailey and other companies," said Sharon Luckman, Executive Director of Alvin Ailey American Dance Theater which has been the Principal Resident Affiliate of NJPAC since its opening in 1997. "It's great that he'll be bringing this successful history of producing, audience building and fundraising to NJPAC and I look forward to working with him in Newark for many years to come."
Rodriguez was a founding producer of New York's Latin International Theater Festival (TeatroStageFest). He has consulted on the Essence Festival held annually at the New Orleans Superdome and The Montreux Jazz Festival. In 2011, Rodriguez reopened the 10,000 seat Mt. Laurel Performing Arts Center in Pennsylvania with concerts by Kiss, ZZ Top, and Frankie Valli with the Beach Boys.
He has served on numerous panels and conducted seminars on community outreach, fundraising, arts advocacy and management for a variety of academic and cultural organizations. In 2007, Rodriguez was presented with the Paul Robeson Award from the Urban League of Bergen County for achievement in the Arts and Culture.
Rodriguez received his BA in Arts Administration/Music Merchandising from Mansfield University with additional studies at the Julliard School and Eastman School of Music. A bassist, he has had a wide range of concert and recording experiences including the Rochester Philharmonic, Tito Puente, Max Roach, Don Pullen and Chuck Mangione.
New Jersey Performing Arts Center (NJPAC), located in downtown Newark, New Jersey, is the sixth largest performing arts center in the United States. As New Jersey's Town Square, NJPAC brings diverse communities together, providing access to all and showcasing the State's and the world's best artists while acting as a leading catalyst in the revitalization of its home city. Through its extensive Arts Education programs, NJPAC is shaping the next generation of artists and arts enthusiasts. NJPAC has attracted over 6 million visitors (more than one million children) since opening its doors in 1997, and nurtures meaningful and lasting relationships with each of its constituents. Visit http://www.njpac.org for more information.
Programming has been made possible in part by funds from the New Jersey State Council on the Arts/Department of State, a Partner Agency of the National Endowment for the Arts, by funds from the National Endowment for the Arts, and by Discover Jersey Arts.
NJPAC is a wheelchair accessible facility and provides assistive services for patrons with disabilities. For more information, call 888-GO-NJPAC.
# # #