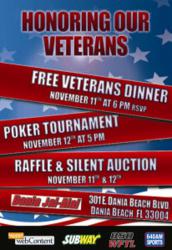 No veteran should face the indignity of going without proper medical treatment, housing or other essentials, but that is the reality for thousands of American disabled veterans.
Fort Luderdale, Florida (PRWEB) November 11, 2011
While it would be easy to assume that a man or woman who has sacrificed everything for their country and suffered injury or illness in the process would be cared for after the completion of service, the reality paints a different picture. In fact, thousands of disabled veterans are denied their rightful disability benefits each year.
Care for Disabled Veterans (CFDV), a registered 501(c)(3) based in Fort Lauderdale, Florida, was founded with the express purpose to address one very specific aspect of bettering disabled veterans lives. Contributions to the non-profit organization make it possible to match qualified disabled American veterans with medical professionals who will provide Independent Medical Exams (IME) free of charge.
CFDV founder and director Kenneth LaVan—a veterans' disability attorney and advocate—has extensive experience with veterans' disability cases and issues. He has found the IME critical for disabled veterans applying for earned benefits from the U.S. Department of Veterans Affairs.
Care for Disabled Veterans operates on the principle that the IME is a vital component to overcoming the sometimes biased opinions from VA doctors, nurses, and physician assistants that are provided in VA Compensation and Pension (C&P) examination reports. VA administrators routinely use these opinions to deny veterans' claims for service-connected disability benefits.
Medical opinions from private physicians can provide veterans with the evidence they need to establish service-connection and therefore, better able to secure much needed and deserved disability benefits. Care for Disabled Veterans exists for the purpose of providing veterans with free access to medical examinations with private doctors, and ultimately a fair chance at proving their disability claims.
To learn more about the Care for Disabled Veterans mission statement, charitable giving guidelines or to find valuable resources for disabled veterans and their caregivers, please visit CareforDisabledVeterans.org.
###