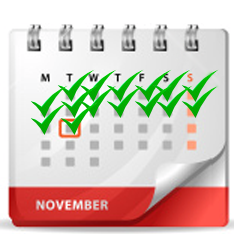 Easiest tracker to use, I can't wait to come back the next day and make it turn green!
Danbuy, CT (PRWEB) November 11, 2011
WorkoutLog.net today launched the first fitness tracker designed soley to motivate people so they not only meet, but exceed their fitness goals.
The goal was to create a fitness tracker that was dead simple to use and also every feature be designed to increase people's motivation.
The interface allows people to track their daily success as well as anything they want to track for that day. The unique design of their tracker is that they don't force people to follow any kind of rules to enter what they want to track. People can track anything that they can name, and assign a number to. Be it their weight, body fat % , running, weightlifting, blood pressure, as long as they can quantify it with a number and give it a name they can track it.
As people fill up their days with green (meaning you had a good day) their calendar starts filling up with green and that motivates them because they really don't want to have a bad day (yellow or red) show up on their calendar.
One of the best motivators is making fitness goal intentions known to the world ( friends) and Workoutlog.net has plenty of options for people to not only share their goals with their friends but also show off their successes. They can generate images of their progress charts and give links to their friends or even upload the picture to facebook.
For the ultimate motivation, they allow people to create fitness challenges. Users can invite friends/co-workers to participate in their challenge by generating a pretty invitation image and sending them a link to join their challenge. Participants in the challenge can view everybody's progress on a nice chart.
# # #