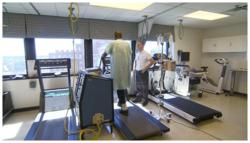 Tucson, AZ (PRWEB) November 10, 2011
In the November issue of The Journal of Heart and Lung Transplantation (JHLT), Virginia Commonwealth University (VCU) Medical Center in Richmond published the first findings demonstrating that physical exercise and measurable rehabilitation are feasible with the SynCardia temporary Total Artificial Heart. Read article
The single-center, retrospective study measured blood pressure (BP) response during exercise, exercise duration and change in tolerated exercise workload over an 8-week period. The study included 37 patients implanted with SynCardia's Total Artificial Heart (TAH) and 12 patients implanted with the HeartMate II left ventricular assist device (LVAD).
Total Artificial Heart patients began physical rehabilitation at a median of 5 days and treadmill exercise a median of 19 days after implant, with increased exercise intensity and duration over time. Mean arterial BP did not change with exercise in patients with the Total Artificial Heart but did increase in those with an LVAD.
"During circulatory support with a TAH, the BP response to exercise was blunted," the study's authors concluded. "However, aerobic exercise training early after device implantation was found to be safe and feasible in a supervised setting."
Patients who participated in physical therapy early tended to have shorter waiting periods for heart transplantation (60 days vs. 89 days) and significantly higher survival rates to transplantation (100% vs. 70%). At the time of analysis, four of the 30 Total Artificial Heart patients for whom physical rehabilitation data was available were still on device support, while 88% (23/26) of the remaining Total Artificial Heart patients had been transplanted.
About the SynCardia temporary Total Artificial Heart
SynCardia Systems, Inc. (Tucson, AZ) is the privately-held manufacturer of the world's first and only FDA, Health Canada and CE approved Total Artificial Heart. Originally used as a permanent replacement heart, the Total is currently approved as a bridge to transplant for people dying from end-stage biventricular heart failure. More than 950 implants account for more than 230 patient years of life.
Similar to a heart transplant, SynCardia's Total Artificial Heart replaces both failing heart ventricles and the four heart valves. It is the only device that eliminates the symptoms and source of end-stage biventricular failure. The Total Artificial Heart provides immediate, safe blood flow of up to 9.5 liters per minute through both ventricles. This high volume of safe blood flow helps speed the recovery of vital organs, helping make the patient a better transplant candidate.
In March 2011, Fast Company magazine ranked SynCardia #20 among the World's 50 Most Innovative Companies "for giving mobility to artificial heart recipients." Also in March, the longest running health and wellness series on public television, "Healthy Body, Healthy Mind," produced a 30-minute program featuring SynCardia's Total Artificial Heart. View here
For additional information, please visit: http://www.syncardia.com
Like SynCardia on Facebook
Follow SynCardia on Twitter – @SynCardia
Connect with SynCardia on LinkedIn
###