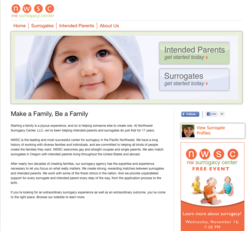 Portland, OR (PRWEB) November 11, 2011
Northwest Surrogacy Center (NWSC) founders Sandra Hodgson and John Chally will host a free presentation for couples and individuals interested in having children through surrogacy on Wednesday, November 16, at 7:30 PM in NE Portland.
Topics will include the cost of surrogacy, information about NWSC surrogates, the legal process, and how to get started. Attendees will have the opportunity to ask questions.
To learn more about this free event or to RSVP, visit http://www.NWSurrogacyCenter.com or call Northwest Surrogacy Center at (503) 233-2818.
About Northwest Surrogacy Center
Northwest Surrogacy Center is the leading and most successful surrogacy agency in the Pacific Northwest. They have been helping intended parents and surrogates create families for over 17 years. NWSC has a long history of working with diverse clients, including gay and straight couples and individuals living in the United States and abroad.
###