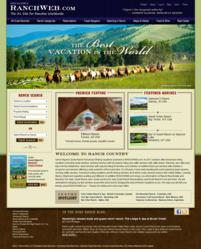 ...a comprehensive list for anybody searching for dude ranches...
Sonoma, CA (PRWEB) November 10, 2011
Ranchweb was founded in 1995 by Gene Kilgore, and is considered by many to be the ultimate guide and search engine for dude ranch vacations in North America and around the world. Ranchweb, with the help of WebSight Design, has just released its brand new, completely redesigned website which offers a variety of improvements and new features.
In addition to its directory capabilities, Ranchweb provides resources for those seeking a ranch vacation. Travel bargains and on-site guest ranch booking request capabilities are just a few of the benefits of using the new Ranchweb. With 30 years of experience writing about the world's top guest ranch experiences, Kilgore's new online guide offers many resources, as well as a comprehensive list for anybody searching for dude ranches, working cattle ranches, horseback-riding vacations, luxury ranches, fly fishing ranches, or any other sort of guest ranch vacation.
With a crisp and more user-friendly interface, Ranchweb now provides extended member support and benefits. The new site gives ranch owners intuitive, helpful services and conveniences as Ranchweb brings them customers from around the world.
Ranchweb connects owners of ranch retreats and resorts with vacationers looking for an outdoorsy getaway. Ranchweb members can now take advantage of more exciting and organized ranch vacation listings, seamless integration of social media, such as Twitter, Facebook and Trip Advisor, and improved reporting and management for member listings.
Member ranches are able to easily see how many visitors have come to their Ranchweb listing and exactly how many of them have clicked through to their respective ranch websites.
Among other helpful features of the new design by WebSight Design, visitors can find location-based offerings through Ranchweb's seamless Google Maps integration. Additionally, the incorporation of social media links will allow users to stay up-to-date with their favorite ranches news, deals, and information, as well as improve the ongoing search engine optimization efforts for the overall site.
Kilgore also publishes Ranch Vacations, which has been released in its eighth edition, a full-color handy guide to all the ranches, including tips on how to select the perfect one for your family. It is available for purchase on Amazon.
###