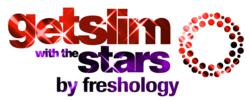 Eat your way to a healthier lifestyle!
Los Angeles, CA (PRWEB) November 10, 2011
Freshology, a leading purveyor of healthy, home-delivered, gourmet meal programs and products in the U.S., has played an integral role in the diets of several "Dancing with the Stars" Season 13 celebs and pros, including Ricki Lake, Nancy Grace, JR Martinez, Chynna Phillips, Chaz Bono and pro dancers Kym Johnson, Maksim Chmerkovskiy, Anna Trebunskaya and Tony Dovolani. Each has been enjoying four, all-natural gourmet Getslim with the Stars meals daily – breakfast, lunch, dinner and dessert – delivered to their doorsteps and featuring the finest ingredients available for optimal taste and greatest nutritional benefit.
"Freshology has been the meal plan of choice for some of the biggest names on 'Dancing with the Stars' over the past several years, and this season it's been a real thrill watching Freshology enthusiasts like Ricki, Nancy and Chaz showcase their skills on the dance floor while looking amazing in the process," said Todd DeMann, Freshology Founder and CEO. "Our Getslim with the Stars home meal delivery plan was inspired by 'Dancing with the Stars' and the personalities who make the show one of the most watched on TV. Now fans of the show can incorporate the healthy, delicious and calorie-controlled menu that many of their favorite dancers utilize for optimum health and convenience into their own lives."
Hand-crafted by top chefs in Freshology's state-of-the-art kitchen, Getslim with the Stars features 10, 14, 20 and 28-day programs that include breakfast, lunch, dinner and dessert delivered fresh to clients' doorsteps anywhere in the U.S. Clients can also expect help in maintaining a healthy lifestyle with program add-ons including all-natural health bars as they dance off the weight with limited-edition fitness DVDs from the show's top professional dancers.
Getslim with the Stars offers customers two program options – completely Fresh or Flash Frozen – delivering creative menus that rely on premium ingredients, all-natural lean proteins, low glycemic fruits, vegetables and whole grains. The Fresh meal delivery program is available at $47.95 per day for female portions, which include between 1100-1350 calories, and $49.95 for male portions, which include between 1600-1800 calories; the Flash Frozen program costs $35.95 for female portions and $37.95 for male portions.
Previous "Dancing with the Stars" contestants who have used Freshology include Mario Lopez, Stacy Keibler, Marlee Matlin, and last season's champion, Hines Ward.
To order Getslim with the Stars by Freshology or learn more about the home meal delivery program's options and menu, visit http://www.getslimdwts.com or call 888-821-3821.
Additionally, Freshology has been conducting a season-long "Eat and Dance Like a Star" Sweepstakes in which one winner each week is awarded three days of Getslim with the Stars meals. The grand prize winner, chosen the day after "Dancing with the Stars" announces its Season 13 champ, will win one month of Getslim with the Stars meal delivery and an all-expenses paid trip to Los Angeles, where they will have a one-on-one dance lesson with a "Dancing with the Stars" professional dancer. Visit http://www.getslimdwts.com/sweepstakes/ to enter.
About Freshology:As the nation's premier gourmet, home meal-delivery service, Freshology serves health-conscious consumers throughout the U.S. with delicious, epicurean diet food via its national programs GETSLIM Gold, GETSLIM Silver and Fresh Mommy. All of Freshology's Southern California-based calorie-controlled programs – Fresh Dining, Fresh Lite, Fresh Mommy, Lifestyle and Whole Family – pair great-tasting, gourmet dishes with healthy ingredients and are delivered to clients' doors daily. Certain Freshology meal programs can be customized based on weight loss goals, likes and dislikes and medical requirements. Freshology receives consistent national media attention for its celebrity appeal, weight loss success stories, and five-star menu in outlets including People Magazine, US Weekly, Woman's World, In Touch Weekly and OK! Magazine, among others.
###