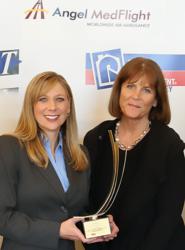 We are committed to innovation in the name of patient care and safety, and it is an honor to be recognized for that.
Scottsdale, Ariz. (PRWEB) November 10, 2011
Angel MedFlight was honored with the Special Achievement in Entrepreneurship Award during the fifteenth annual Spirit of Enterprise Awards presented by the W. P. Carey School of Business at Arizona State University. The awards pay tribute to Arizona businesses that excel in the areas of ethics, energy and entrepreneurship.
An international medical transfer company which transports ill and injured patients via medically-configured jets, Angel MedFlight was founded in 2007 by Jeremy Freer, a then 25-year-old flight paramedic with a dream of helping patients and their families.
"As a flight paramedic, I saw that the air medical transport system was inefficient and patients were not receiving the level of care and safety they needed," says Freer. "I made the decision to change that and I've never looked back. From the very beginning, we have focused on our patients' best interests, and that required a complete overhaul of the medical transport system. Today, we have we have nurses and case managers planning Bedside-to-Bedside™ transfers and an in-house legal team dedicated to assisting with insurance. We are committed to innovation in the name of patient care and safety, and it is an honor to be recognized for that."
Angel MedFlight was announced as winner during a Nov. 8 luncheon at the Westin Kierland Resort & Spa in Scottsdale. Attended by hundreds of business and community leaders, the ceremony highlighted the achievements of 10 Arizona businesses whose founders have shown remarkable vision and tenacity in the realization of their ideas.
Angel MedFlight has emerged as a world leader in air medical transport, and has continued to thrive during tough economic times. The company has more than tripled in number of employees since 2009 and has expanded the medical fleet to include one of the first Learjet 60s in North or South America dedicated to patient transport.
About Angel MedFlight Worldwide Air Ambulance Services
Angel MedFlight, founded in 2007 by Jeremy Freer, is based in Scottsdale, Ariz. The company coordinates domestic and international air medical transportation services, commercial medical escorts, ground ambulance services and provides assistance with claims and coverage issues. Angel MedFlight's One Touch Promise™ assures that every detail is handled and all resources are committed to guide the process from start to finish with a compassionate team of experts in the fields of medicine, aviation, insurance law and case management. Learn more at http://www.angelmedflight.com.
Media Inquiries:
Kimberly Halloran
Executive Vice President
(480) 559-6827
###