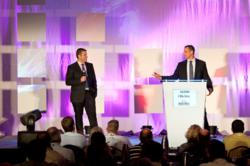 Dallas, TX (PRWEB) November 11, 2011
The National Association of Expert AdvisorSM (NAEA) is the nation's premier association for real estate agents committed to excellence in sales and client service – moved into high gear in its quest to elevate and strengthen the real estate industry and its agents in this horrific real estate market.
As part of its expansion strategy for 2012, the NAEA unveiled its newest designation – the Certified Home Selling AdvisorTM – at Kinder Reese's 5th Annual Exponential Growth Summit.
The designation is the first of its kind in the industry today that will identify for buyers and sellers who the top real estate agents are in their market place and more importantly, who is going to do the best job for them.
"Consumers deserve the absolute best possible care and service when they buy and/or sell a home. The Certified Home Selling AdvisorTM designation helps them know who to look to for guidance among the hundreds of real estate agents they have to choose from in their area when they're ready to go. For me, it's a complete game changer that will help me stand out from my competition even more over the coming months", said Lars Hedenborg, a Summit attendee from Charlotte, NC.
The Certified Home Selling AdvisorTM designation is the standard bearer for excellence for agents and is expected to turn the entire industry on its ear over the next six to twelve months. And, because it's geared towards agents who want long-term careers, the designation is congruent with President Obama's job plan that 1) stresses tax cuts for small businesses and entrepreneurs to help them hire and grow and 2) increases jobs and income to help more people afford a home.
In addition to having the designation released at this year's Summit, business optimization expert and marketing guru, Jay Abraham, headlined the majority of the second day at the event.
Abraham, known as the $9.4 billion man for the total profits he's helped his clients earn as a consultant, shared his secrets and strategies on how agents can optimize their real estate businesses, even in a tough market like the one we're seeing now.
He detailed his strategy of "reverse engineering" your goals and processes to ensure that you hit your goals. During one of his stints on stage, he stated that "Most people don't have goals, they have thoughts and ideas. They don't have goals because they don't write them down. If you want to have goals and be guaranteed of reaching them" he continued "you need to write them down and reverse engineer them, working from the end to the beginning."
A day with Jay Abraham costs a hefty $50,000, but Summit attendees got to see them as part of their participation in the event – an amazing opportunity at any cost.
About Kinder Reese Real Estate Partners:
Kinder Reese Real Estate Partners is an internationally recognized, real estate coaching and marketing company. As supporters of the NAEA, they work with more than 25,000 real estate agents across North America. They've been in business since 2004.
Contact:
Megan Spray, Director of Marketing
Kinder Reese Real Estate Partners
972-668-5090
http://www.KinderReese.com
"We Support The H.O.M.E. Foundation"
About The H.O.M.E. Foundation:
The Helping Others Means Everything, or The H.O.M.E. Foundation, is a not-for-profit organization dedicated to helping our Family of Charities during these tough economic times through added incentives, luxury raffles and high profile celebrity events. Our mission is to help charities reach their fundraising goals and to bring awareness to their praiseworthy causes.
# # #