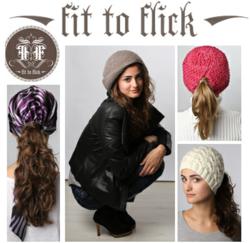 These hats are perfect for busy Moms, stylish teens, and little girls who like to keep their hair securely out of the way!
New York, NY (PRWEB) November 15, 2011
It's common fashion mishap. A fashionable gal wants to look cute in cold weather, but her hair is a mess and it's absolutely freezing outside. She puts her hair in a ponytail and dons a beanie, doing the best she can to make the beanie accommodate the ponytail. The result is a ridiculous profile and a hat that doesn't cover her ears. With so few fashionable ponytail hats to choose from, our poor fashionista has no choice but to accept this fashion disaster.
This is where Fit to Flick saves the day. Founded in 2011 by New York University business student and budding entrepreneur Hannah Bomze, Fit to Flick is a line of winter ponytail hats that not only accommodate a ponytail and keep the wearer warm, but also are undeniably stylish! The patent-pending slit at the back of the hat allows for significant ponytail height variation and becomes invisible on the days the wearer would like to keep her hair down. Fit to Flick ponytail hats are available in a variety of styles and colors in both women's and girls' sizes. Fit to Flick also offers a spring/summer line of ponytail head scarves available in a variety of gorgeous silk prints. Never have to sacrifice fashion for comfort or comfort for fashion.
In the spirit of the holiday season, Fit to Flick has teamed up with fashionable charity Glamour Gone Good. When customers purchase select styles from the Fit to Flick website in October, November and December, Fit to Flick will donate 15% of sales to those in need.
Fit to Flick is currently featured on As Seen On TV. As Seen On TV is notorious for finding the most innovative and practical new inventions to share with the country, and they were happy to welcome Fit to Flick into the prestigious circle.
Fit to Flick has received rave reviews from a variety of blogs around the world, including Cool Mom Picks, Yahoo! (US and Deutschland), and Incredible Things (to name a few). Fit to Flick has partnered with several blog owners to offer giveaways to readers.
Fit to Flick ponytail hats are available online at the company's website as well as in a variety of retail stores in New York City, The Hamptons and Miami (for full list, visit Fit to Flick's website).
Flick it!
###