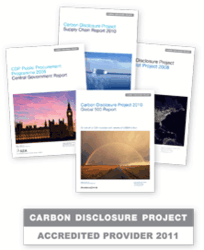 "While the primary driver was due to a request from our client and CDP Supply Chain member, AT&T, we found it to be a valuable way to help us quantify and articulate our own sustainability goals, such as meeting the AIA 2030 Challenge."
Boulder, CO (PRWEB) November 10, 2011
Renewable Choice Energy today announced its renewal as an Accredited Consulting Partner to the Carbon Disclosure Project (CDP), the largest voluntary greenhouse gas emissions reporting organization in the world. Renewable Choice was a founding partner to the CDP's Accredited Consultancy program and has since helped its clients complete close to 100 CDP responses.
The continuation of the partnership is reflective of the growing reach of CDP and its programs as well as the increasing number of organizations that Renewable Choice has worked with to successfully disclose and report emissions. CDP partners are required to meet certain criteria including supplying outstanding service references from CDP responding companies.
"CDP is delighted to renew our consultancy partnership with Renewable Choice in the U.S.," said Paul Robins, Head of Corporate Partnerships at the Carbon Disclosure Project. "Renewable Choice has demonstrated a commitment to encouraging the high quality disclosure of climate change related data from global corporations and has displayed strong credentials in regards to supply chain sustainability and greenhouse gas measurement services."
Reporting carbon emissions is a growing trend for companies in the U.S. and globally and many are requiring carbon reporting in new supply chain programs. The Carbon Disclosure Project accelerates solutions to climate change by putting relevant information at the heart of business, policy and investment decisions.
"The Beck Group is thrilled to be a participant in the Carbon Disclosure Project," said Betsy Del Monte, director of sustainability for The Beck Group, a Renewable Choice client. "While the primary driver was due to a request from our client and CDP Supply Chain member, AT&T, we found it to be a valuable way to help us quantify and articulate our own sustainability goals, such as meeting the AIA 2030 Challenge."
Renewable Choice attends CDP workshops, receives regular briefings from senior CDP staff, and has input on the 2012 Questionnaire and scoring methodology. Additionally, as an accredited consultancy partner Renewable Choice offers businesses an inside look at the benefits of CDP reporting and Response Check, a high-value low-cost program to improve the completeness of the CDP questionnaire.
"It is exciting to be a part of the growth of voluntary carbon disclosure and reporting that is CDP's mission," said Quayle Hodek, Renewable Choice CEO and founder. "CDP continues to raise awareness and build momentum around the necessity and value of global emissions reporting. This partnership strengthens our sustainability service offerings and meets the rapidly growing needs of our clients."
The company's client and partner list includes many Fortune 500 companies and industry-leading organizations including Whole Foods Market, Google, Burt's Bees, Steelcase Inc., Audiovox, Hines, Best Buy, TD Bank, Agilent Technologies, and many state and municipal governments.
About Renewable Choice Energy
Founded in 2001, Colorado-based Renewable Choice Energy is a leading global provider of greenhouse gas (GHG) measurement services, energy efficiency solutions, renewable energy credits (RECs) and carbon offsets. RCE works with Fortune 500 Companies, small businesses, residential customers and has worked on over 2,000 LEED® green building projects. Renewable Choice and its clients have received prestigious awards from the EPA and DOE for supporting and expanding the renewable energy market and have been featured in hundreds of media outlets including The New York Times, Wall Street Journal, CNN, USA TODAY, and more. To learn more, visit http://www.renewablechoice.com.
About Carbon Disclosure Project (CDP)
The Carbon Disclosure Project (CDP) is an independent not-for-profit organization providing a transformative global system for companies and cities to measure, disclose, manage and share climate change and water information. Some 3,000 organizations across the world's largest economies now report their greenhouse gas emissions and assessment of climate change risk and opportunity through CDP, in order that they can set reduction targets and make performance improvements. CDP now holds the largest collection globally of self-reported climate change data. For more information, visit http://www.cdproject.net.
###