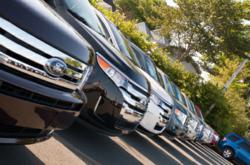 Wilmington/New Castle, DE (PRWEB) November 10, 2011
At the Sheridan Auto Group in Wilmington, Delaware buyers are being encouraged to come in and check out the arrival of the new 2012 Ford and Nissan models that are arriving. These two great names in automobiles have garnered several awards over the past year for current 2011 models and are sure to garner more in the year to come for the 2012s. As a premiere Ford dealer in Delaware the vast inventory has been increasing with the new arrivals necessitating the sale of pre-existing stock. Car buyers looking for used cars in Wilmington will be pleased with the vast array to choose from such as a used GMC in Wilmington or a used Mustang in Delaware period, for this dealer can compete with any dealership in the entire state on prices. The same can be said for Sheridan Nissan, also part of the Sheridan Auto Group. At Sheridan Nissan consumers looking to purchase new automobiles can find a new Nissan in Wilmington available to view and ultimately test drive and purchase. There are many models to choose from as well. These two great dealerships take pride in being part of the prestigious Sheridan Auto Group, Wilmington and New Castle's premiere auto sales dealers serving the good people of Delaware for almost 15 years in both the Wilmington and New Castle area.
Both establishments boast knowledgeable and friendly sales staff and support teams striving for customer satisfaction teeming with both new and used inventory and an on-site repair facility with highly trained, certified technicians to address any and all vehicle issues a customer might be concerned about in a professional and helpful way demonstrating knowledge and concern for customer safety and using OEM parts to further bolster consumer confidence. Along with these strong points in place there is an "online dealership" in addition to allow easy access to preview inventory for the ultimate convenient shopping experience available for all customers with internet capability. There are great sales in place on vehicles for this segment of their shopping audience as incentives for shoppers. The list goes on and on for the many great reasons car and truck shoppers of new and used vehicles would want to make the Sheridan Auto Group a must on the competitive car buying circuit.
Sheridan Auto Group knows its customers have many choices to choose from when making car buying decisions, and works hard to maintain the top-rated status that has been attained over the years by continually meeting and exceeding the demand for high customer satisfaction that ultimately leads to high customer loyalty for years to come and often generations within families. At Sheridan Auto Group, an A rated member of the Better Business Bureau, providing top quality cars with the highest quality service is the number one priority lending itself to trust, which is something that's hard to come by these days. This dealership would like to become the first and last place consumers go for all their automotive needs for decades and generations to come.
# # #