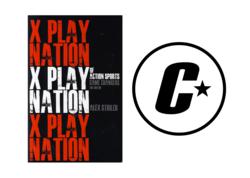 (PRWEB) November 09, 2011
In early 2010 action sports aficionado Alex Striler (Bokasmo & Co., Osiris Shoes, Lucas Oil) began development on the recently released book "X Play Nation", a insider look at how the action sports industry has utilized both lifestyle marketing and communications technology to successfully link action sports brands and their enthusiast targets. The book, featuring commentary and insights from influential action sports icons such as Bob Hurley of Hurley International, Mark Hall of Monster Energy, Bob McKnight of Quiksilver, Tony Alva, Brian Deegan and Ken Block, looked to tap into a communications organization that had an up-close and personal tie to not only action sports as a whole, but also first-hand knowledge of the tactics and strategies behind enthusiast marketing.
Enter Costa Mesa-based marketing communications firm Blue C, and specifically co-founders Eric Morley and Jeff Bentley.
Founded in 1999, Morley and Bentley, both action sports enthusiasts themselves, set out to develop a strategic communications firm that understood the marketplace. The firm, whose client list includes Monster Energy, Kawasaki, SCORE International, Maxxis Tires and American Racing among others, was on Striler's radar for key insights when looking for support and direction for the development of "X Play Nation".
"They were my first choice" says Striler. "I needed to understand, from an agency perspective, what firms were doing to help position these brands to an enthusiast audience. These guys live the lifestyle. They just get it. And they transfer that knowledge into marketing tactics that drive straight to the core of an enthusiast consumer."
"It's really about understanding that consumers now drive the success of brands for companies, not the other way around" according to Jeff Bentley, the driving force behind Blue C's award-winning creative. " Consumers will dictate what they allow into their world based on how cool it is and how it directly affects their lifestyle. If that connection isn't there, you can sell a brand all day and it will never take off.
"We were thrilled and honored to bring some insight to Alex's creation" adds Morley. "Being a part of the development of this book and sharing the stage with some very big industry players is truly exciting for us at Blue C."
For more information on Blue C, or to see how they can help your brand, call directly at 714-540-5700 or visit them on the web at bluecusa.com. For more information on "X Play Nation" or to order a copy, please visit Amazon.com and type in keyword, X Play Nation".
# # #