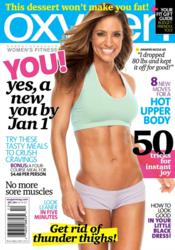 Los Angeles, California (PRWEB) November 10, 2011
Once fat and now fit, Jennifer Nicole Lee's weight loss success story is still going strong as she celebrates her 3rd Oxygen cover. Known worldwide by JNL by her adorning expansive fan base, Jennifer's 80 plus body transformation has motivated millions, and now her story is updated with new projects, productions, and a future "Fun Fit Foodie" Cookbook release.
Oxygen magazine is one of the world's top health and wellness publications for women who want to look and feel their best. JNL's trademark slogan of "Strong is the new skinny" captures the energy and passion of this stellar magazine. JNL has a long history with Oxygen magazine, gracing 2 past issues of August 2008 and also her first being the Winter issue of the "Special Collectors Weight Loss Issue".
In her "Cover Girl Confidential" Interview, JNL reveals many of her secrets in what makes her a household name, and the creator of a brand that spans the globe. When asked what are some of her success secrets, and why is she able to have stickability in a sometimes grueling and super competitive fitness industry, JNL humbly responds stating" Connecting with my fan base and seeing what I do really does matter motivates me to continue."
It's apparent in her Oxygen interview that she is super passionate about her motivational messages and inspirational projects and productions she is involved in at the moment. She is the creator of the "in high demand" exclusive training method called JNL Fusion, where she weaves in her signature cardio bursts into innovative weight training exercises to morph the body into perfect super fitness modelesque symmetry. She is hosting her 2nd annual JNL Fusion World Conference this January 13-16th at a private resort, and anyone may apply at http://www.JNLFusion.com to be carefully selected and approved by JNL and her team.
In her future yet to be released 3rd book entitled "The Fun Fit Foodie" JNL shares how her attitude towards eating has actually helped her not only lose the weight, but keep it off for good. Quoting "to me, eating is about celebration, not deprivation" For more visit http://www.TheFunFitFoodie.tv
The December Oxygen issue hits stand November 22, or can be ordered here now: http://www.shopmusclemag.com/product.asp?productid=2266
# # #