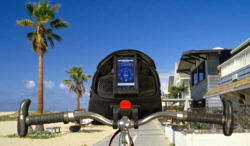 Sound quality is wonderful!
Irvine, CA (PRWEB) November 11, 2011
Audible Rush, Inc., maker of the industry's first full-featured stereo bicycle speaker music dock for smartphones, has made gift giving easier for friends and relatives who love to bicycle! The Jam-Pac Personalized Holiday Gift Editions come with an industry leading 'unconditional fun guarantee'— if the gift recipient does not experience increased fun while bicycling with music, the Jam-Pac bicycle speaker system can be returned for a full refund up to January 25th, 2012 with no questions asked.
The special holiday limited edition bicycle speaker systems come with free custom monogramming in rich silver-gray lettering on the heavy duty high-thread count denier nylon Jam-Pac handlebar bag. In addition, Audible Rush will wrap the limited edition Jam-Pac in a hand sewn and corded blue fabric bag suitable for all holiday gift giving. Audible Rush can ship directly to the gift recipient and optionally include a note with a personalized message.
This limited-time offer is available now through December 20th, 2011 at the company's online store http://www.audiblerush.com. Orders will be processed as received and will ship within 3 working days as long as supplies last. Order early to ensure delivery before the holidays.
"It's easy for us to guarantee you'll have more fun bicycling when you add music", said Marc Nussbaum, CEO and co-founder of Audible Rush. "Occasional recreational cyclists and avid cyclists who have heard the Jam-Pac Premium bicycle speaker system are amazed at the sound quality and have commented that it's the best sounding portable speaker system they've heard. Jam-Pac makes a great gift for your loved ones because it can increase rider safety by eliminating the use of dangerous headphones."
The Jam-Pac product line features include a smartphone/MP3 docking station, speakers, amplifier and USB charger inside a quick release handlebar bag designed for bicycles, jogging strollers, and other recreational activities. The company's products deliver automotive quality sound without headphones. This makes riding more fun, improves safety and enhances exercise effectiveness for all types of riders, including recreation, performance, long distance, and commuters.
User reviews have been consistently glowing- "Very impressive product, 5 stars. The sound system is amazing and it looks really nice. I enjoy biking but having music while riding makes it a thousand times more fun. The sound is very clear and it seems that the sound surrounds me when riding the bike", Ara, Newport Beach, CA. "The unit is lightweight so no burden on the handlebars. Easy to operate, sound quality is wonderful and easy to adjust volume depending upon traffic noise. Interior storage makes the unit ideal for essential item storage while shopping. Unit easy to put on and take off while running errands. Makes touring bike riding most enjoyable", Shyrl, Irvine, CA.
The concept for Jam-Pac™ originated when Nussbaum wanted to enjoy tunes during his cycling treks in Southern California. "I tried bungee cords, tie wraps and duct tape to rig an MP3 player to my handlebars. It was cumbersome, unattractive and sounded terrible," said Nussbaum. "Then I tried every 'bicycle speaker music system' I could find – but none had good sound quality or the features necessary to be safe for cyclists."
"Consumers expect to use their smartphones, social media, playlists, and streaming channels 24x7, wherever they are, and whatever they are doing." added Nussbaum. "Audible Rush has designed an entirely new class of music system that allows today's rider or parent out with a jogging stroller to stay connected."
Jam-Pac works with all MP3 players and phones including iPods™, iPhones™, Android™ phones, and Blackberrys™. Smartphone users can stream Internet music, navigate with GPS and run fitness applications. Select phones can answer incoming calls over the speakers and can also be charged over USB, ensuring power is available for important calls.
Founded in 2009, Audible Rush delivers a safe, first class music experience to cyclists and other outdoor recreation enthusiasts. Visit http://www.audiblerush.com to learn more.
###