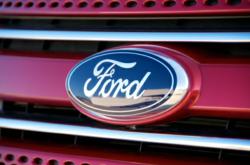 Wilmington, DE (PRWEB) November 10, 2011
The Sheridan Ford dealership in Wilmington, DE is thrilled to announce that the trend-setting optional safety feature known as Sync with MyFord is now available on all incoming 2012 Fords for purchase, with the exception of their cargo vans, which is just another great reason to buy a Ford. This great feature works together with Smart Phones to give drivers a safer driving experience while interacting with today's modern features available on most new phones. It offers hands-free calling and audible text messaging along with 911 assistance as well as a driver assisted turn-by-turn direction feature, traffic alerts, business searches, and 411. It's also got other great features like entertainment options available such as voice-activated music, internet connectivity, and news, sports, and weather, and the Sheridan Ford dealership of Wilmington couldn't be more excited about being involved in this latest safety trend. Besides selling high-quality new vehicles with the legendary Ford name instilling confidence all over the world, Sheridan Ford offers a fine and extensive listing of used vehicles in stock. Consumers looking to find used cars in Delaware or used trucks in Delaware need look no farther.
The vast available inventory doesn't stop at domestic American-made vehicles. It extends well into imports as well. A used Honda in Wilmington or a used Nissan Altima in Wilmington is in stock now and available for immediate sale. All a customer needs to do is come in and peruse the inventory and take it for a test drive to ensure it's the perfect fit and the negotiations and qualifying can commence for an easy and pain-free buying experience by one of the trusted and friendly sales staff waiting to be of help. Used trucks in Wilmington are also plentiful. Another option for car buyers is to take advantage of the dealership's online sales department where access to inventory online is available from the comfort and privacy of a home or office computer with a state-of-the-art website that's offered for customer interaction that's constantly being updated with new stock. This is crucial in today's fiercely competitive auto sales market. There are sales incentives just a mouse click away available for online shoppers as well making it more affordable as well as easier to shop online. It's all just a phone call, mouse click, or test drive away. All in all, between the quality products offered and the user-friendly website along with the first-rate dealership, Sheridan Ford is the place to be.
The entire auto inventory of the Sheridan Auto Group can now be easily seen on the Web much more conveniently due largely to First in Results SEO Marketing, formerly known as JP Automotive Marketing. Through their groundbreaking Web-based framework and individualized auto dealership websites, First in Results SEO Marketing helps auto dealers in leading the market when it comes to site/inventory load speed, consumer experience, and Search Engine Optimization (SEO). In today's online marketplace as it pertains to the auto business, the need for virtually every auto dealership to be easily located online through various major search engines such as Google, Yahoo, and Bing is essential, especially within the incredibly competitive auto sales industry. At this time, First in Results SEO Marketing holds top terms for leading auto companies including Honda, Ford, Toyota, and Chevrolet in major US markets such as Houston TX, Atlanta GA, Cincinnati OH, Philadelphia PA, and Jacksonville FL. The principal purpose of First in Results SEO Marketing is to assist auto dealers in becoming #1 within their own metro area marketplace, both on the Web with regards to elevating SEO results, and subsequently offline as they transform those elevated SEO into greater overall sales figures.
###