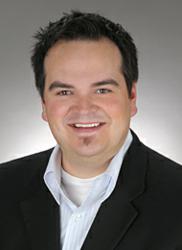 Shaun's depth of dealership process knowledge, true passion for innovation and, most importantly, his track record of integrity that always puts dealers first, are a perfect fit with our mission.
Salt Lake City, UT (PRWEB) November 10, 2011
Auto industry veteran and digital media expert Shaun Raines has been named Executive Director of DrivingSales University (DSU), the world's premiere, interactive automotive educational platform. Raines will oversee DSU, which provides the industry with vendor-neutral structured learning on digital marketing, Internet processes and dealership organizational structure – all designed to maximize dealership success in the rapidly evolving digital age. Raines' mandate also includes further expansion of DSU's ongoing curriculum development, as well as building out the University's dealer services center.
"We are excited to welcome Shaun to the team as we expand access to DSU curriculum in dealerships across the country and fill a growing education need," said Jared Hamilton, president and founder of DrivingSales, which owns and operates DrivingSales University. "Although 90% of dealership customers are online, most dealerships have less than 10% of their staff trained to handle this massive opportunity. Furthermore, most of the 'education' offered to dealers today comes from vendors with a bias towards selling their products. DSU is completely vendor-agnostic and provides on-demand access to results-based training and the authoritative data, trends and best practices that will enable dealerships to win in the complex digital universe. Shaun's depth of dealership process knowledge, true passion for innovation and, most importantly, his track record of integrity that always puts dealers first, are a perfect fit with our mission."
Launched earlier this year, DrivingSales University is a NADA University Partner, and offers a fully interactive online training platform with curriculum available 24/7 to subscribing dealership professionals. DSU instructors, including a wide array of world-renowned experts, keep tabs on the market and filter pertinent data and knowledge into the DSU courses, giving dealers access to the most up-to-date profit building information. DSU offers hundreds of classes for all dealership personnel - from strategy lessons for dealer principals to "hand-to-hand" combat instruction to improve staff skills. DSU curriculum pivots around the three key operational pillars of a dealership: 1. Marketing – how to increase walk in, phone and web traffic, 2. Process – how to handle and close that traffic, and 3. Structure – how to structure the dealership to scale, including hiring, testing, compensation, job responsibility, etc.
DSU's interactive platform is specifically structured to enable dealerships to get the information they need in a digital marketplace that can demand a change in business or marketing practices overnight -- one in which Google's algorithms can shift with no warning, sending shockwaves through a marketing strategy, or a new app can rise up and change the way consumers receive content, demanding new dealership process.
"I am thrilled to join DrivingSales, and to use my experience and knowledge to help car dealers not only grow their business, but save millions of dollars lost every year on the wrong products and the wrong processes," said Raines. "There is a huge need in our industry for the sort of comprehensive, cross-department online training that DSU offers, as evidenced by the long list of dealers waiting to enroll. I look forward to helping the thousands of dealerships across the country who are looking for a vendor-neutral, interactive educational platform that helps them stay up to date on the latest developments in digital media, set up the right processes and structures inside their dealerships and manage their resources for greater profitability."
Raines is a 20-year automotive industry veteran who has dedicated the last 13 years to helping dealers effectively use the Internet to attract, acquire and retain customers. Previously, Raines spent almost eight years with Reynolds & Reynolds, working with teams that launched and supported ground-breaking products, such as CarPoint.com (Microsoft), CarsDirect's Connect and Yahoo! Autos. Shortly after Reynolds & Reynolds bought their first web site company, Automark, Raines was promoted to Senior Manager, Trainer and Retention/Renewal Specialist. He later served as Business Development Manager for Reynolds Web Solutions. Shaun eventually left Reynolds to start his own automotive Internet business, Dealer Advisor LLC, and in June of 2009, joined ReachLocal as their Director of Automotive. A sought after speaker on digital media and process, he has presented at Digital Dealer Conferences, OEM dealer events, the DrivingSales Executive Summit and multiple industry conferences.
About DrivingSales.com
DrivingSales is the auto industry's fastest-growing, most influential trade media property focused on delivering actionable profit-building information to auto retailers and industry professionals. DrivingSales' information network includes flagship property DrivingSales.com (http://www.drivingsales.com), the world's largest car dealer social network where thousands of dealership professionals collaborate and share best practices in a 20-group style setting; DrivingSalesTV (http://www.drivingsalestv.com), an interactive web channel which helps car dealers and auto professionals keep tabs on their industry and emerging technologies 24/7; DrivingSales University, an on-demand training platform where dealerships learn the latest web strategies from top e-commerce experts; DrivingSales Executive Summit (DSES) the industry's leading conference where progressive dealers collaborate and learn from world renowned experts, and DrivingSales Dealership Innovation Guide, a quarterly free publication featuring case studies of the industry's most innovative dealerships, solutions and best practices. Approximately, one in every four dealerships in the United States has a registered member in the DrivingSales community.
DrivingSales encourages innovation and excellence in the industry with its annual Dealer Satisfaction and Innovation Cup Awards, whose winners are determined solely by the dealer community. Founded by Jared Hamilton, a third generation car dealer, DrivingSales won a "Top 25 Under Five" award from the Utah Valley Entrepreneurial Forum (UVEF), was named a 2011 Fast 50 "Emerging Eight" company by Utah Business magazine, and received an Interactive Media Award (IMA) in 2011 for Outstanding Achievement in the 'Automobile' website category. Additionally, DrivingSales was named one of ten social media gambits for 2009 by Automotive News and one of the Top 10 Companies to Watch in 2010 by Auto Success Magazine.
DrivingSales Media Relations:
Melanie Webber (melanie(at)mwebbcom(dot)com), mWEBB Communications, 424.603.4340
Angela Jacobson (angela(at)mwebbcom(dot)com), mWEBB Communications, 714.454.8776
# # #