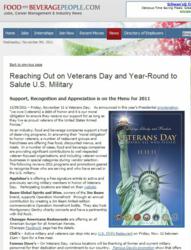 "We're proud that the industries we serve do so much to reach out to veterans. They recognize their value as citizens, consumers, partners and employees."
Princeton, N.J. (PRWEB) November 10, 2011
FoodAndBeveragePeople.com has published an overview of the tremendous promotional, practical and philanthropic efforts the food and beverage industry is doing to celebrate Veterans Day this year.
Honoring veterans is incumbent upon us all, and especially now, as up to 40,000 troops prepare to leave Iraq – a war that, according to The Associated Press, killed over 4,400 million military men and women and wounded over 32,000.
As with so many fine causes, the food and beverage industry is stepping up to honor those who have served. Restaurants are offering veterans free or discounted meals on Veterans Day or throughout the week, some manufacturers are contributing financially to veteran-focused non-profit organizations and others are making specific efforts to employ those who served so well both domestically and overseas.
"In today's economic environment, a little encouragement can go a very long way," said Gigi Cohen, publisher of FoodAndBeveragePeople.com. "We're proud that the industries we serve do so much to reach out to veterans. They recognize their value as citizens, consumers, partners and employees."
For Veterans Day 2011, FoodAndBeveragePeople.com highlights over 20 companies that participate in honoring veterans. The entire article can be read at http://www.foodandbeveragepeople.com/cm/news/veterans_day_2011
About the website: FoodAndBeveragePeople.com (food and beverage people dot com) is for and about the people that drive the food and beverage industry in the United States. Industry professionals at every stage of their career will find job listings, news, newsmakers and industry trends to inform their business and career decisions. Individuals needing to keep up with the vast food and beverage industry, but with little time to spare, can sign up on the site for free e-mail newsletter service or follow us on Twitter @foodandbevbiz .
###