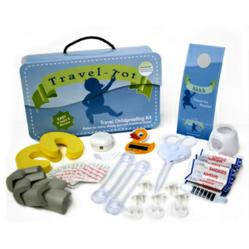 Parents agree that our Travel Childproofing Kit is a must have for families who travel
Denville, NJ (PRWEB) November 14, 2011
Travel-Tot, LLC, a leader in away from home childproofing is proud to announce that their Travel Childproofing Kit is the Totally Awesome Kid's Travel Accessory!
The Travel-Tot Childproofing Kit is a temporary, childproofing kit that provides everything needed to childproof an average hotel room. The 33-piece kit offers easy to set up solutions for traveling families that do not damage the room. A sample of items in the kit include: finger pinch guard, electrical outlet plug covers, foam corner guards, door knob cover, cord wind-up, sliding door lock, cabinet lock, multi-purpose straps, water thermometer, bandages, forehead thermometer, and "shhh, Travel-Tot sleeping" door hanger.
Sponsored by giggle, Red Tricycle's Totally Awesome Awards lets parents nominate and vote on the best family-friendly products, parenting tips and resources in their community, Totally Awesome Awards is the most fun Kid/Baby Awards program that makes Moms (and Dads) the judges! To honor kid friendly brands, products and services that are recognized by awesome Red Tricycle Mom Community, They give out the Red Tricycle's Totally Awesome Awards.
The Travel Childprooofing Kit provides a variety of childproofing devices along with temporary adhesive strips for those items requiring installation; every piece of the Kit that is installed using the adhesive strips goes on strong, yet comes off clean* when it is time to repack the kit components until they are needed again! While no childproofing device can replace adequate parental supervision, the Travel-Tot Kit components provide an extra layer of protection between your child(ren) and the hazards that can result in serious injury.
"Parents agree that our Travel Childproofing Kit is a must have for families who travel" says Tom Bergstrand, CEO of Travel-Tot, LLC. "Competing against other great products such as Phil & Teds Nest, Melissa and Doug Trunki and the Mobi Tykelight jr, Tag*a*Long was an honor.
"As parents, we go to great lengths childproof our homes; but how do you create that "safe space" in a hotel, or when visiting friends and relatives? Travel-Tot's Travel Childproofing Kit gives parents the tools they need to provide that extra layer of protection for their children; making visits and trips more enjoyable and less stressful!"
The receipt of this award is just one of the distinctions Travel-Tot has received in this category since it's launch a year ago. Other examples of such awards and honors include receiving the Editors Choice Award for "Best New Guest Amenity" at last year's International Hotel, Motel and Restaurant Show in New York City and "Best Travel Kid Safety Tool" in babble.com's 20 must-have products for a family on the go.
Find out more information by visiting http://www.travel-tot.com
About Travel-Tot:
Travel-Tot, LLC launched in January 2010 with the goal of developing tools and resources to help families with their travel needs. Putting the categories of travel, safety and children together has been instinctive for the founders of Travel-Tot. Not only do they vacation frequently with their two young children, but Wendy Bergstrand, COO, is a member of the International Association for Child Safety (IAFCS). Travel-Tot is devoted to the safety of children when they travel with their families and the Travel Childproofing Kit is just one of the services they bring to the public. The website, travel-tot.com is a friendly, hands-on resource for family-friendly travel information. The blog, http://travel-tot.blogspot.com also provides expert travel and safety articles and advice.
###