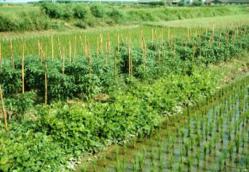 Green Manure @ VolkerKleinhenz.com
Phnom Penh, Cambodia (PRWEB) November 11, 2011
Volker's homepage contains a section on his scientific papers. Within this section, his publications were earlier only available in HTML format but have now also been made available in downloadable PDF format. This affects 47 publications within this section.
The newly included paper on "Green manure practices in intensive vegetable farming systems" presents results of a literature review on the subject back in 1993 when he was conducting work on his M.Sc. thesis at the Asian Vegetable Research and Development Center. Although authored nearly twenty years ago, the paper's topic remains relevant particularly due to the more recent dramatic increases in costs for mineral fertilizers. The World Bank's 2010 Global Commodity Markets Review and Price Forecast states that "fertilizer prices increased five-fold between 2002 and 2008. Though they declined considerably during 2009, their long-term real average is expected to be 80 percent higher than their early 2000s levels, raising the cost of producing most agricultural commodities". Green manure can, at least, compliment the use of fertilizers in intensive, commercial agriculture.
Rapidly growing populations in many tropical countries cause increases in demand for food and leads, at the same time, to irrevocable loss of arable land due to rapid urbanization. Expanded food production through opening up new agricultural land was still possible during previous decades, but further augmentation through deforestation and improper use of marginal locations has resulted in a loss of natural resources which needs to be prevented. The future need is, therefore, to produce more food on existing land by increasing productivity per unit area. In vegetable production, intensified production goes very often hand in hand with environmental pollution oftentimes through over-use of fertilizers and pesticides. One attempt to maintain a high level of productivity, but protect for further degradation of natural resources in more and more highly specialized, spatial limited vegetable production systems is to reconsider green manuring techniques. Numerous green manure systems are traditionally known; others were developed more recently, most of them have not been applied to vegetable farming. A balance of their benefits and constraints will decide if these techniques are able to meet future demands.
Besides providing an overview of his scientific publications, his homepage includes Volker's updated Curriculum vitae which now includes his latest assignments as a referee for the premium international agricultural journal Scientia Horticulturae and for the Journal of Agriculture and Rural Development in the Tropics and Subtropics (JARTS).
These details are also available at Dr. agr. Volker Kleinhenz's LinkedIn profile, his German homepage at VolkerKleinhenz.de, his homepage at the Asian Institute of Technology (AIT) in Thailand and his Twitter account @VolkerKleinhenz.
###