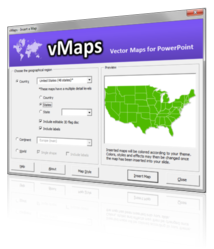 vMaps builds on the demands of users to have access to quality vector maps in a convenient manner, directly from within PowerPoint
London (PRWEB) November 15, 2011
Maps have long been an integral part of business presentations but often difficult to locate. Templates are easily downloaded from the Internet yet easily lost. GMARK's new vMaps addin solves this problem by bringing World maps to PowerPoint via a single new button in the ribbon.
A single click of the new Maps button launches the vMaps map selector, presenting the author of the presentation with choices to insert maps by a range of geographical zones including; World, continent and country. For selected maps, presentation designers may drill down to sub-regions, states and counties and may also include labels. Maps may be styled using the current presentation theme, a grid fill or even using the map's related flag image.
Maps have been specifically designed for use in PowerPoint as lossless vector graphics meaning they can be scaled without edge distortion and each map shape is individually named so that designers may select them using the PowerPoint Selection Pane. For example, finding the country Germany in the World map which includes in excess of 200 individual countries is now less time consuming. Once a map has been inserted in to PowerPoint, it may then be copied to other Microsoft Office applications including Outlook, Word, Excel, Publisher and InfoPath.
vMaps uses the extensibility framework of Microsoft Office applications to seamlessly integrate new functionality within the PowerPoint user interface. Following the shift from 32 to 64 bit applications, vMaps is compatible with Windows 2010 (x64 and x86), Windows XP, PowerPoint 2010 (x64 and x86) and PowerPoint 2007.
vMaps is available as a free trial with limited map access while the full version retails at a limited period launch offer price of $149 (usually $199) which includes free updates and free support by email or phone.
About GMARK
Based in the UK, GMARK is a marketing software publisher of PowerPoint applications, content and training. Products include ActivePrez, SwiftPrez, Circlify, vMaps and MapPrez. GMARK also offers custom software development services to clients requiring automation of design or workflow processes within the PowerPoint environment.
###