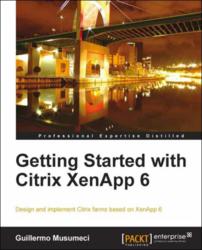 UK (PRWEB) November 12, 2011
Birmingham: Packt Publishing, a world leader in the publishing of quality information for IT professionals is pleased to announce that Getting Started with Citrix XenApp 6 is available on Amazon's Kindle.
Getting Started with Citrix XenApp 6, by Guillermo Musumeci, is a comprehensive tutorial with details on how to design, implement, and maintain Citrix farms based on XenApp 6. Additionally, readers will learn how to use management tools and scripts for daily tasks such as managing servers, published resources, printers, and connections. XenApp 6 Deployment and optimization on Citrix XenServer, VMware ESX, and Microsoft Hyper-V virtual machines and physical servers is also covered.
The book has been developed in a tutorial style with step-by-step instructions and numerous screenshots for carrying out each task. Full book details are provided on the Packt Publishing website.
Packt Publishing is committed to providing high value information for Citrix professionals and has a number of other projects in development.
About Packt Publishing.
Packt is an innovative publishing company based in the UK. It publishes extensively into both the Open Source and Enterprise spaces. With Enterprise, the company has published almost 200 books into technologies such as Citrix, IBM, Microsoft, Oracle and others.
Packt recently launched its own in-house library platform, called: PacktLib. PacktLib offers all Packt's books through any web browser for a low annual subscription.
###