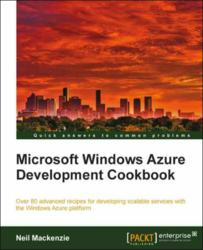 UK (PRWEB) November 13, 2011
Birmingham: Packt Publishing, a world leader in books and eBooks on Microsoft technologies announces that Microsoft Windows Azure Development Cookbook is now available on Amazon's Kindle. Authored by, Neil Mackenzie - Microsoft MVP for Windows Azure, the book is a collection of more than 80 advanced recipes for developing scalable services with the Windows Azure platform.
About Windows Azure. The Windows Azure platform is Microsoft's Platform-as-a-Service environment for hosting services and data in the cloud. It provides developers with on-demand computing, storage, and service connectivity capabilities that facilitate the hosting of highly scalable services in Windows Azure datacenters across the globe.
Microsoft Windows Azure Development Cookbook is a practical cookbook demonstrating advanced development techniques for building highly scalable cloud-based services using the Windows Azure platform through reusable recipes.
Readers will learn all about the various access control mechanisms, Windows Azure Blob storage, Windows Azure Table storage, and Windows Azure Queues. Additional topics such as hosted services, and the Windows Azure AppFabric Service Bus are also covered. Full details on the book can be found on the Packt Publishing website.
Packt Publishing is committed to serving the informational needs of Windows Azure professionals and has also published other Azure related books. These include:

A book and eBook that provides straight talking advice on how to design and build enterprise applications for the cloud
Microsoft SQL Azure Enterprise Application Development
A book and eBook for building enterprise-ready applications and projects with Microsoft SQL Azure
An in-depth scenario-driven approach, of 13 business cases, for architecting systems using Microsoft technologies.
In December 2011, the company is expected to publish:
Microsoft Silverlight 4 and Windows Azure Enterprise Integration
Packt Enterprise is a publishing division of Packt Publishing specifically created to support the informational needs of IT professionals in the Enterprise space. The division publishes widely across technologies from Microsoft, IBM, Oracle and others. All Packt titles are offered in multiple formats including print, eBook and select library formats including Safari and Packt's own in-house library platform PacktLib. PacktLib offers all Packt's titles through any web browser connected to the internet. Subscribers can print, copy, paste and bookmark content.
###