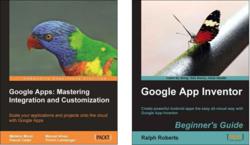 UK (PRWEB) November 14, 2011
Birmingham: Packt Publishing is pleased to announce the publication of Google App Inventor and Google Apps: Mastering Integration and Customization – two books and eBooks for Google Developers and Professionals wanting to learn all about Google Apps.
Google's App Inventor is an application that can be used to build apps for Android phones. It provides users with drag and drop facilities to build almost any kind of app. Google App Inventor, the book, has been written by Ralph Roberts (an author with over 100 books to his name) to provide an entertaining, informative, and memorable learning experience. The book begins with basic instructions on installing and getting started with Google App Inventor, then quickly moves onto creating complete apps that are ready for real world use. The book details apps that communicate, pull data from databases, and surf the Web and other networks. Additional information covers the utilization of GPS and various sensors on phones, and game development.
Google Apps offers a set of office tools (email, calendar, word processing, and spread sheet) for a price which is two to five times more cost-effective than traditional offerings. Google Apps: Mastering Integration and Customization is a book all about making your transition to Google Apps fast and easy. It shows readers how to develop a customized adoption path, and takes them through extending and securing apps whilst teaching readers how to manage administrative tasks.
Full details on each book can be found on the Packt website. All Packt's Google Books can be found on the Google Books category page.
Packt is committed to providing first class learning resources for the Google-verse, and has previously published other titles on Google, including:

Google App Engine Java and GWT Application Development
Google Web Toolkit 2 Application Development Cookbook
Google SketchUp for Game Design: Beginner's Guide
In turn, Packt has two more titles scheduled for publication soon:
Google Plus First Look: a tip-packed, comprehensive look at Google+
ExtGWT Rich Internet Application Cookbook
About Packt:
Packt Publishing is one of the world's leading providers of books, eBooks and eLearning for a range of titles on Google technologies. All Packt titles are available in print form, Kindle, ePub, mobi, and through online library platforms. Packt recently launched its own library platform 'PacktLib' where web users can access all Packt's titles for a low annual subscription.
###