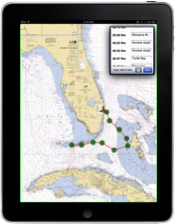 Delray Beach, Florida (PRWEB) November 10, 2011
EarthNC, Inc. announced today the availability of new multi-point routing support for its iPhone Marine Charts application. The update, now available via Apple, Inc.'s iTunes, allows boaters to quickly plot a multi-segment course on their iPhone with heading and distance data per segment as well as the ability to dynamically "rubber band" routes. A key feature is the ability to download the latest charts on the route directly from EarthNC's cloud-based NOAA chart and weather server – thus assuring boaters have the very latest charts available for the routes they care about.
EarthNC's co-founder, Virgil Zetterlind commented: "Our boater community has been asking for multi-point routing for quite some time and I'm happy to say that I think we've delivered what they're looking for. It's simple, easy and leverages our real-time, cloud-based chart and weather service. We're going to be paying careful attention to the reviews and feedback to see how we should improve upon it. "
About EarthNC, Inc.
EarthNC™, based in Delray Beach, Florida, develops mobile marine navigation applications for iOS and Android platforms for consumers, companies, government agencies and non-profit organizations.
###