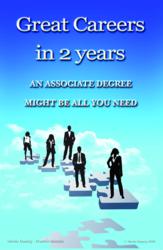 Students are drowning in debt. This does not have to happen.
Fort Lauderdale, FL (PRWEB) November 14, 2011
Students are coming home because their student loans and low paying jobs (or no jobs) have kept them from earning enough to be on their own. But this does not have to be the wave of the future.
Authors Sheila Danzig and Francis Mutulu will changed that with their new book, "Great Careers in 2 Years: How to Beat a Bad Economy with an Associate Degree." The book provides anyone seeking a college education with the information and resources to obtain a degree without being buried under a mountain of debt. And now it is free.
"Students are drowning in debt," said Danzig. "This does not have to happen. There is a new paradigm being formed in education and that is the two-year degree. Once the stepchild of education, it is now soaring to the top as the answer to getting a good job and not being buried under loans."
The book is available for $14.95 at Amazon.com (http://tinyurl.com/greatcareers2years) can be downloaded free for a limited time at TheDegree.com Simply scroll down and look for the free download link at the bottom of the page in the center.
TheDegree.com, an education resource and career-consulting site, sponsored the creation and publication of the book to help students get the degree they dream of without committing themselves to years of student debt.
"Great Careers in 2 Years" approaches higher education in a unique and innovative way that will save students and their families a significant amount of money. For many years, students received a two-year degree that provided entrance into the professional field of their choice. It's only been in the recent past that the push for costly four-year degrees have been seen as the pinnacle of success.
To get a top rated job, students must attain a degree, but to obtain that degree, 86 percent can't afford college unless they borrow. It's a situation that's leading to defaults on student loans and a generation of college-educated adults that begin their professional life mired in debt. According to The College Board®, the average debt is over $27,000 a year and that cost rises to $119,400 for private college. By comparison, a two-year college costs $2,713 a year for tuition.
Graduates can't find employment in the current economy and they're refusing to settle for low-paying jobs that don't provide enough income to live on. Young adults are moving home in droves to live with their parents to save money. Danzig and Mutulu have created a guide that will change that.
Readers will learn how a two-year associate's degree can open the door to professional success and financial freedom, at a fraction of the anticipated cost in tuition. There are many excellent jobs in challenging and entertaining fields that require a two-year degree. Danzig and Mutulu show students how to find excellent two-year colleges and ensure that credits transfer properly for those who opt to pursue a four-year degree.
"Great Careers in 2 Years: How to Beat a Bad Economy with an Associate Degree" is an authoritative guide on how to obtain a lucrative college degree and save thousands on tuition costs. Readers will learn about jobs that pay well, require a two-year degree, and the colleges that help them accomplish their educational and professional goals. The book shares the secrets of acquiring a degree in the least amount of time, allowing individuals to begin their journey to career earnings and success.
For more information, view the video on YouTube at http://www.youtube.com/watch?v=yh-PCACV60s or download it free TheDegree.com/
# # #