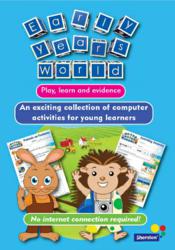 Sherston, Wiltshire, UK (PRWEB UK) 12 November 2011
Perfect for nursery/foundation settings, childminders and home users, Early Years World features a collection of mini-adventures and interactive activities designed to nurture IT skills in young learners. Divided into age ranges and levels of difficulty, children age 2 to 5 can embark on 56 mini-adventures, learning as they play and providing printed record sheets for evidencing achievement.
IT skills are developed through beautifully engaging activities designed around the Early Years Framework including mathematics, problem solving and phonics. Together they give children a head start in preparation for primary school. Children can be left to enjoy the games by themselves or be supervised, enhancing language and communication skills as they go.
Early Years World, a subscription product, is unique because it can be accessed both online, as well as offline on a computer using a portable USB flash drive. This allows early years settings to take advantage of the subscription model to ensure they have the most up-to-date and growing resource, whilst providing a solution that accounts for limited internet connectively.
Key benefits of Early Years World

Help young learners along their learning journeys
Printed record sheets – perfect for Child Development Records and 'Parents as Partners'
GO DO activity sheets extend learning away from the computer
'Well Done Certificates' to motivate and reward your children
Access both online or locally on your computer via a USB flash drive
For further information on Early Years World visit http://www.earlyyearsworld.com. To obtain a press review copy, please contact Reeza Awoodun, Group Marketing Director on 07810 878585 or reeza(dot)awoodun(at)sherston(dot)com.
###