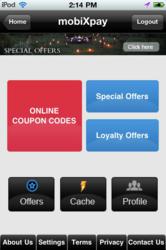 One free shipping code paid for the app. - Monica Holmes, Registered User
New York, NY (PRWEB) November 14, 2011
Save Today:
Save on holiday shopping! Mobixpay offers instant keyword search of more than 4000 offers to discover who has the best online deals this holiday season. Who has great offers on clothing, jewelry, toys? Enter a keyword and instantly search online offers by leading e-retailers to find deals. Looking for discounted items, money off a purchase, free shipping and/or the lowest price for an item - mobiXpay is the mobile holiday shopping utility to use. Yes, mobile. Find the best deals with fast and easy keyword search from the convenience of a smartphone.
Register Now:
Download the mobiXpay application for the iPhone or Android smartphone to save on online holiday shopping. Registered users receive 15 months of service for $19.99 (a total cost of $1.33 a month) and have unlimited access to online offers on mobiXpay. Hundreds of new deals are uploaded daily. Enter the Online Coupon Codes area of the app and enter a keyword. Find out which e-retailers have the best deals. Bonus: online coupon codes for 1000s of e-retailers. Accessing current coupon codes and free shipping offers has never been easier.
About Mobixpay, Inc.
Founded in 2011, Mobixpay, Inc. was started to make it easier for consumers to save while shopping. mobiXpay makes locating online deals from 1000s of e-retailers as easy as entering a search keyword. Cynthia Hickman, Mobixpay's CEO and Founder says "we are well on our way to achieving our dual goals of blanketing our registered users with deals - galore; and, delivering access to these deals with unparalleled convenience through the registered user's smartphone. Cynthia expects mobiXpay to become the singular money saving shopping utility for consumers this holiday season.
You can find and download the "mobixpay" application on iTunes and the Android Market. Visit http://www.mobixpay.com to learn more.
###