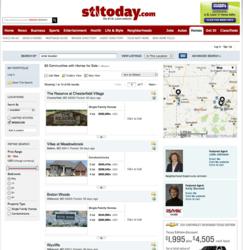 "We are proud of the local relationships we have built in the St. Louis area, and aligning ourselves with the leading local website is a huge advantage for our builders."
Austin, TX (PRWEB) November 10, 2011
Builders Digital Experience (BDX), announced today that St. Louis area builders who list their communities on the leading new home website, NewHomeSource.com will automatically have their listing published in the real estate section of STLToday.com.
STLToday.com is the #1 website in the St. Louis area and attracts nearly 4 million unique visitors each month. The real estate section of STLToday.com now includes a new home tab powered by NewHomeSource.com listings. Builders also have the opportunity to upgrade their listing with premium placement.
"Our focus is to help home buyers find the right home," said Paul West, vice president/online-St. Louis Post-Dispatch/STLToday.com. "With the addition of new home builder listings, home buyers can now conduct a search including all resale homes and new home construction in the St. Louis metro area on one site."
The alliance allows BDX to provide another distribution outlet for new home builders interested in reaching home shoppers, and is part of a larger BDX effort to help builders "List Once and Be Everywhere". In addition to hundreds of partner sites, the BDX network includes NewHomeSource and Move New Homes, the number one and number two new home websites. Collectively, the BDX network reaches over 40 million potential new home buyers each month*.
"We are very excited to work with STLToday.com and power the new home section of their real estate portal," said Chad Bria, account executive for Builders Digital Experience. "We are proud of the local relationships we have built in the St. Louis area, and aligning ourselves with the leading local website is a huge advantage for our builders."
Builders Digital Experience has a strong presence in the St. Louis market and has been working closely with the St. Louis HBA for the past year to create new education and marketing opportunities for home builders. Builders who are interested in listing their new homes on the NewHomeSource.com website and having their homes included on STLToday.com can contact Chad Bria at CBria(at)thebdx.com.

About Builders Digital Experience
Builder's Digital Experience, LLC (BDX) from Builder Homesite, Inc. and Move, Inc. (NASDAQ:MOVE) was founded in October 2009 to combine the industry's leading new home resources under one roof and offer builders innovative online marketing options, streamlined customer service and support, and greater value. Capitalizing on over 11 years of building industry experience, BDX includes the top two new home websites, NewHomeSource from Builder Homesite and Move New Homes. Additional services include video production, rich media rendering, mobile search, custom website production, connections to real estate professionals, and more. Together these online and interactive resources help builders create a true digital experience for their buyers. For more information, visit http://www.thebdx.com.
This press release may contain forward-looking statements, including information about management's view of Move's future expectations, plans and prospects, within the safe harbor provisions under The Private Securities Litigation Reform Act of 1995. These statements involve known and unknown risks, uncertainties and other factors which may cause the results of Move, its subsidiaries, divisions and concepts to be materially different than those expressed or implied in such statements. These risk factors and others are included from time to time in documents Move files with the Securities and Exchange Commission, including but not limited to, its Form 10-Ks, Form 10-Qs and Form 8-Ks. Other unknown or unpredictable factors also could have material adverse effects on Move's future results. The forward-looking statements included in this press release are made only as of the date hereof. Move cannot guarantee future results, levels of activity, performance or achievements. Accordingly, you should not place undue reliance on these forward-looking statements. Finally, Move expressly disclaims any intent or obligation to update any forward-looking statements to reflect subsequent events or circumstances.
About St. Louis Post-Dispatch
The St. Louis Post-Dispatch and STLtoday.com ranks fifth for reach among newspaper/web combinations in the 25 largest U.S. markets. It is largest of 46 daily newspapers owned by Lee Enterprises, along with rapidly growing online services and more than 300 weekly newspapers and specialty publications in 23 states. Lee is based in Davenport, Iowa, and its stock is traded on the New York Stock Exchange under the symbol LEE. For more information about the St. Louis Post-Dispatch visit http://www.stltoday.com. For more information about Lee Enterprises visit http://www.lee.net.
###