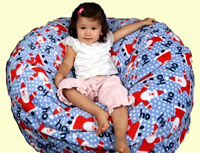 Ashburn, VA. (PRWEB) November 22, 2011
AHH! Products announced the launch of their Black Friday AND Cyber Monday Bean Bag Bonanza sale. For the first time ever, on Friday, November 25 and Monday November 28, most bean bag chairs on their website will be discounted. Visitors to the website (http://www.ahhprods.com/) will find sale prices posted from 10am to 4pm Eastern time only. Even personalization prices will be reduced.
"Our washable, made-in-America bean bags have become very popular with the Jet Set, Fortune 500, celebrity designers, and thousands of people nationwide. We especially get swamped with orders during the holidays, so we wanted to ring in the holiday season with great prices to spread the bean bag love. We have never put so many bean bag chairs on sale at once before, so we are very excited," said Jade Nguyen, President of AHH! Products.
AHH! Products bean bag chairs are built to last, with a 10 year warranty to back them up. Complete with tons of choices of removable washable covers and water-repellent liners, you can't go wrong. Fleece, faux fur, denim, prints, faux suede, and so much more for kids and adults.
About
Ahhprods.com was founded in 1998 to provide consumers with a better choice of bean bag chairs and accessories that are both beautiful and practical. The site offers an enormous amount of products and buying tools for the style and budget-conscious consumer.
If you would like more information about this topic, or to schedule an interview with Jade Nguyen, please call 888-244-6818 or e-mail MediaRelations(at)ahhprods(dot)com
###