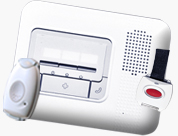 The FallGuard Pro automatically detects falls, but it also comes with the traditional help pendant.
Pittsburgh, PA (PRWEB) November 12, 2011
Automated Security Alert, the Pittsburgh-based medical alarm company, offers the next level of medical alarm technology: The FallGaurd Pro is here. While push-button medical alarms can be a tremendous help to an individual who knows that they need immediate medical help, what happens when a person suffers a fall injury that's too severe to allow them to hit the button on their medical alarm? Every precious second counts when an injury is severe, and the FallGaurd Pro senses when the person wearing the device falls down and can signal emergency help. According to research, 58% of seniors who have had a medical alarm for one year or more report an improved quality of life. (i)
Most personal emergency response systems (PERS) require the user to push a button to alert that they need help. However, the FallGaurd Pro is worn by the individual, and if the device is tipped more than sixty degrees for more than a pre-set time (approximately one minute), the device will actually send a signal to the life safety operators at Automated Security Alert to let them know that a fall has occurred, and immediate action will be taken. The small device can be worn without limiting the user's activities. The distress signal issues after a minute, to not cause confusion in day-to-day movements, such as taking clothing out of a dryer. In the event that the individual suffers a fall and is rendered unconscious, they can be sure to get the life-saving help that they need, which is a big advantage over medical alarms that require the user to push a button to signal that help is needed. According to the New England Journal of Medicine, 90% of individuals who receive medical attention within one hour of a fall or other emergency can continue to live independently, but if medical attention isn't received after twelve hours, only 10% can continue independent living. Automated Security Alert provides the FallGaurd Pro free with a monthly monitoring fee of $39.50.
ASA has been a national provider of medical alarms, telehealth devices and medication dispensers since 1988. With offices in Philadelphia, Cleveland and their main headquarters in Pittsburgh, ASA's trained operators provide in-home healthcare throughout the nation with medical alert solutions, remote patient monitoring, fall detection and medication management systems. Through use of the array of available products, patients can increase their time at home by an average of six years. For more information on maintaining an independent lifestyle, visit http://www.automatedsecurityalert.com.
For questions about this press release, please contact Jason Seyler at 1-800-338-7114.
(i) VanBooven-Whitsell, Valerie, RN, BSN, PGCM. The Senior Solution: A Family Guide to Keeping Seniors Home for Life!. LTC Expert Publications LLC, 2007 - Family & Relationships - 110 pages
# # #