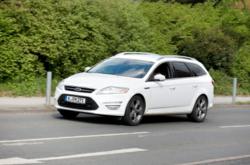 Smyrna, DE (PRWEB) November 10, 2011
At Willis Ford Inc. Smyrna, DE the new Ford Edge in Smyrna is now available with BLIS with Cross Traffic Alert and the optional SYNC with MyFord Touch safety systems, the latest safety features in a growing trend toward keeping both drivers and passengers on the road a whole lot safer from accidents that are traditionally associated with operator error. Blind spot information system technology, or BLIS, alerts you to a vehicle in a blind spot zone with an indicator light in the rear view mirror. Cross Traffic Alert provides audible and visual signals of a vehicle approaching when you're slowly backing out of a parking spot or driveway. SYNC with MyFord Touch is available on most models and works in conjunction with Smart Phones to give you a safer driving experience while interacting with today's modern features available on most new phones. It offers hands-free calling and audible text messaging along with 911 assistance as well as driver assisted turn-by-turn directions, traffic alerts, business searches, and 411. It's also got entertainment options available such as voice-activated music, internet connectivity, and news, sports, and weather. And Willis Ford of Smyrna, DE couldn't be more pleased to be involved in this latest safety trend.
The Edge also comes with a host of other great safety features including a rear view cam, side curtain airbags, and includes not only a remote start system but a push button start. Also available is the SiriusXM Traffic with SiriusXM Travel Link 34 whose features include information on traffic speed and flow, traffic incidents and road closings, fuel prices and stations, National Weather information, sports scores and movie listings, and more. It's got a 111.2 wheelbase, V6 3.5L/213 engine with a 6 speed transmission and is finely appointed with a plethora of other features making this a truly attractive buy. But that's not all the Willis Ford dealership of Smyrna has to offer, obviously. Consumers looking for any new Ford in Smyrna such as a new car or a new truck in Smyrna need only to visit their showroom in person or get on their available virtual showroom where visitors can view all their available stock via the internet where Willis Ford's enormous inventory is just a mouse click away. This is for those customers that prefer to do their preliminary comparison shopping online from the comfort of home or office. Willis Ford offers this online showroom with online sales specials to entice shoppers and to make their car buying experience even easier and more convenient. This is essential in today's fiercely competitive new car and truck and used car and truck market. Once customers have found a vehicle of interest, all that's required is to go down and inspect the vehicle in person and take it for a test drive. It's just that easy. And for those customers who qualify, there are great financing deals and interest rates available as well.
The Willis Ford dealership has more than new vehicles on its lot to offer consumers. It carries a wide assortment of used cars in Smyrna available for purchase, too, like a used Chevy of Smyrna. Anyone looking for new or used trucks in the Smyrna, DE area will be able to find them on this well-stocked lot full of new and used inventory. Willis Ford has a full-service dealership with on-site repairs in the service department with high quality new OEM parts in stock for most makes and models to further facilitate a convenient one-stop-shopping experience. Consumers can know with confidence that all inspections and repairs are being made by a highly trained, certified Ford Service Team member that cares about the quality of their work and the safety of their customers. Even consumers who have not purchased a vehicle from Willis Ford are encouraged to bring their vehicle in for servicing, estimates, and repairs. Customer satisfaction and safety being a top priority that leads to customer loyalty is something that Willis Ford values and wants to continue. The enthusiastic sales staff and support team are there to help in any way possible to ensure that every experience a customer has at this dealership is a positive experience. Willis Ford has been proudly serving the Smyrna, DE area for nearly 30 years and is a highly rated member of the Better Business Bureau.
###