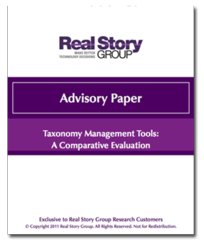 (PRWEB) November 15, 2011
The Real Story Group just released a new Advisory Paper: "Taxonomy Management Tools: A Comparative Evaluation." Taxonomy management tools have become a key player in end-to-end architectures for tackling content organization challenges, but the tools vary substantially in approach, and the marketplace as a whole remains somewhat immature, according to The Real Story Group, an independent analyst firm that evaluates web and enterprise technologies.
As corporate requirements for search and content management have intensified, the market has grown for tools that help organizations create, administer, and publish semantic structures. The Real Story Group's 16-page Advisory Paper evaluates the five most important taxonomy management vendors in the market:

Smartlogic: Semaphore Ontology Manager
Synaptica: Synaptica
Access Innovations: Data Harmony Thesaurus Master
TopQuadrant: TopBraid Enterprise Vocabulary Net
Mondeca: Intelligent Topic Manager
The Real Story Group found that customers are increasingly looking to replace clunky spreadsheets to manage enterprise vocabularies, but often struggle to figure out the right option, since each vendor tackles the problem of taxonomy management from a different angle.
"Strengths and weaknesses vary widely, so what might be a great choice for a publisher that needs to manage a straightforward thesaurus will not be the best option for a pharmaceutical firm that needs to manage a complex drug ontology," notes Real Story Group contributing analyst and principal Advisory Paper author, Stephanie Lemieux.
In addition to vendor strengths and weaknesses, The Real Story Group Advisory Paper also reviews product integration with Microsoft SharePoint – a key requirement for many organizations. "Most vendors are still figuring out how to support SharePoint-based applications," says Real Story Group founder, Tony Byrne, adding, "It's still a young marketplace, and buyers should proceed with caution."
The Advisory Paper is available for sale for $875 at http://www.realstorygroup.com/Research/Advisory
About The Real Story Group
The Real Story Group just celebrated its 10th birthday. They provide research and advisory services to support end users through content technology selection and implementation. Through highly detailed technical evaluations, advisory papers, and other premium services, The Real Story Group helps sort out the complex technology landscape, so that you can minimize time and effort identifying technologies suited to your particular requirements. To retain its independence as an impartial analyst firm, The Real Story Group works solely for solutions buyers and never for vendors.
Contact: Ian Hughes
ihughes(at)realstorygroup(dot)com
Marketing, The Real Story Group
Work +1.617.340.6464 ext. 20
http://www.realstorygroup.com
###