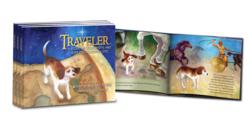 Parmley says,"The book is beautifully illustrated with a strong message on family values...."
Dallas, Texas (PRWEB) November 14, 2011
With her new children's book, master teacher, poetry author, and now children's book author Mary Alice Parmley is reminding parents that the basics of everyday hugs and telling your children that you love them daily will ultimately make a positive difference in a child's life. Traveler: A Story of Trust, Faith, and Hope Encircled by Love was released September, 2011 and is quickly becoming the best Christmas present ever.
After a forty-four year teaching career, Parmley (who is 85 years young) has written a new children's book for ages 1 through 8 about a dog named Traveler who is lost on a lonely road in Judea. Along the way, he passes an inn where the kind innkeeper and his wife take Traveler into their lives and thus begins Traveler's discovery of faith, hope, and trust, encircled by love with his new friends at the inn and in the stable. Traveler experiences the miracle and magic of the birth of Jesus and finds friendship and love with new friends.
Parmley says, "The book is beautifully illustrated with a strong message on family values, which will make it a classic for years to come. It will help teach children that compassion can conquer fear."
Indian Trail Press, Parmley's publisher, will soon launch other theme-based books from Parmley. The collection will be known as "Mrs. Parmley's Books" and available at http://www.mrsparmley.com.
Traveler: A Story of Faith, Hope, and Trust Encircled by Love is the first of a series of Traveler stories to be released. Traveler will experience many adventures as he makes his way around the world in the coming years, giving young children new ways to experience faith, hope, and trust and love.
Children who read this book will want to know where Traveler will be going next in the world.
Mrs. Parmley is accepting invitations from churches, community groups, businesses, and schools to lecture about the art of storytelling and sign her new book during the 2011 Christmas season.
For Information about Traveler and to meet Mrs. Parmley, please visit http://www.mrsparmley.com.
# # #