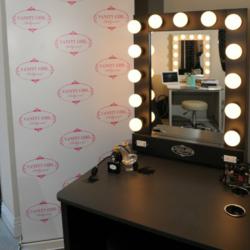 It's a good no-nonsense, one-stop solution. Everything comes in a box and I can just pop it together and plug it in. -L.R.
Theme Park Entertainment Production Manager
Tampa, FL
Tampa, Florida (PRWEB) November 11, 2011
When it comes to Hollywood, and any tourist/entertainment focused city for that matter, the production teams literally run the show. One often-overlooked position is the Production Manager that makes sure that every event and guest experience goes off without a hitch.
When L.R. , a Production Manager for a major theme park in Florida, was tasked with building a separate dressing room for one of their child performers, he turned to Vanity Girl Hollywood (VGH) to establish one of the key elements in the room – the lighted makeup vanity desk.
"It's a good no-nonsense, one-stop solution," he explains. "Everything comes in a box and I can just pop it together and plug it in."
"We are thrilled that production people come to us for their special event, on-set and green room needs," says founder Maxine Tatlonghari. "This is a highly demanding customer and we are proud that our manufacturing often exceeds their expectations."
Things to when choosing a dressing room vanity:
1. Buy vs. build. Is there time to do a proper build out? According to L.R., he would have easily spent the same amount on crew and materials to do it inhouse.
2. Visual appeal. Many of the rentals on the Hollywood market are nothing more than wooden frames with exposed wiring. In fact, Kim and KourtneyKardashian liked the look of VGH'sBroadway Desk so much that it was chosen for the DASH VIP dressing room (Watch Video)
3. Timeframe. Vanity Girl Hollywood is manufactured in Los Angeles and offers free shipping. This business practice keeps jobs local, and the company carbon footprint low.
4. Bulbs. The vanities use a standard, globed 25 watt bulb that can be purchased at almost any home repair store, and are also available through the site for convenience. This choice gives offers that warm, Old Hollywood glow that many makeup artists prefer. Some customers have also opted to switch out the bulbs for LED's or fluorescent bulbs.
5. Mobility. The option of casters allows a desk to be moved easily in the event that a redesign of the dressing room is in order.
About Vanity Girl Hollywood:
Launched in 2008 by fundraiser-turned-entrepreneur Maxine Tatlonghari (after a surprise lay-off), the brand quickly became a celebrity darling, lighting up the faces of famous beauties like Carrie Underwood, Jennifer Love Hewitt and Kim Kardashian. YouTube gurus such as Kandee Johnson, KorenZander,Makeup Geek and Emily Noel have also given the lighted mirrors their stamp of approval and major cosmetic brands are using the signature lighting at some of their biggest events.
###