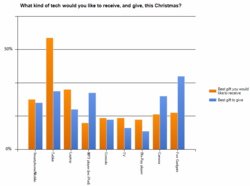 56% of the tech specialist's customers replied their most wanted gadget this Christmas is a tablet
(PRWEB UK) 11 November 2011
It's pretty common to need a tablet on Christmas Day, either for the hangover from Christmas Eve celebrations or to counter the indigestion we give ourselves by inevitably gorging on too much turkey and trimmings.
But this Christmas holidays another, altogether more appealing, tablet looks set to be on everyone's wish list according to a survey by global online retailer Expansys.
In the survey over 56% of the mobile tech specialist's customers replied that their most wanted gadget this Christmas is the tablet, amongst a choice of perennial favourites such as mobile phones, laptops and cameras.
Perhaps it is not surprise result; this is the year that tablets have gone truly mainstream following their explosion into the public's consciousness with the launch of Apple's iPad last year. 2011 has heralded the arrival of fantastic choice of new tablets such as the Samsung Galaxy Tab 10.1, the Asus Eee Pad Transformer, the forthcoming Xoom Media Edition and of course the iPad 2.
Everyone's expectation of their Xmas tech isn't quite matched by their generosity; the most popular choice of what tech to give was 'fun gadgets' - the kind of lower end fun item that might get used on Christmas Day and then never see the light of day again - followed by an mp3 player, such as the iPod.
"It's very clear that customers know what they want for Christmas, and the tablet is set to be this year's hottest gift." commented Julian Neal, CMO of Expansys, "Since the launch of the iPad in 2010 the range of premium and entry level tablets has exploded, and we expect sales to grow by 300% in the final quarter."
Neal added, "And if it was ever in doubt, we can now officially confirm that tech lovers don't want soap-on-a-rope for Christmas."
Indeed, at the other end of the scale Expansys also asked what the worst gift to receive would be, and it's not good news for more traditional gift ideas.
Long-time Xmas villain soap-on-a-rope was the least popular choice, closely followed by knitted jumpers and socks. One respondent pleaded to receive no "more bloody ornaments!" More welcome under the tree are tool sets and money, but tablets are the real medication for a perfect Christmas present.
About Expansys.com:
Expansys is the only truly global online retailer for consumer mobile technology, and wants to become the preferred choice for customers worldwide. Believing that technology can change your life, Expansys' teams discover, review and sell the latest and hottest products from all the world's leading technology manufacturers across 60 international sites in 16 languages.
Notes:
Survey conducted amongst Expansys.com customers (1,000 participants) in October 2011
###