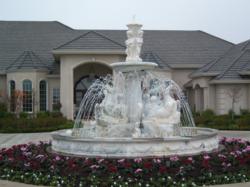 (PRWEB) November 29, 2011
To help customers save money on custom orders, Top Stone now offers "One Stop" shopping to allow customers to make custom orders by email or over the phone.- interacting with Top Stone. Each order is specialty designed by size, color, stone material and each order - one item or container load - is carefully hand crafted by experienced artists . Final pictures/videos of each item ordered is emailed to customer for final approval before factory shipment.Top Stone takes care of the shipment details to any location and can also provide final installation onsite supervision.
Over 5000 pictures and videos can be seen at:
The Top Stone Websites feature 1000's of items produced for customers over the past 20 years at the exclusive carving factory partners of Top Stone, Inc. Only the finest materials are utilized with attention to fine detail such as muscle tone, eyes, nails, hair, etc. Hand carved real art, not mass produced - all hand carved one at a time by real experienced artists. Your savings comes with not having a big inventory in the United States and the ability to ship direct from the Asian factory worldwide upon order. The savings are past on to our customers with a direct price with shipment in the United States to any location and to any closest port of entry worldwide. Real Hand Carved Arte at a direct price. We specialize in custom orders but also have many in stock items ready to ship direct from factory.
The Selection on the two Top Stone websites include the following items:
Marble Fountains, Statues, Gazebos, Columns, Fireplaces, Granite Fountains, Abstract Art, Animals, Bronze, Cast Iron, Flower Pots and Vases, Marble Busts, Marble Tables and Chairs, Pillars and Cloumns all made from the finest Marble and Granite. Rolling Sphere Fountains.
Typical Projects:
Water Features and Marble Art for Office Building Entryways, Atriums, Shopping Centers , Medical Centers , Hotels, Golf Courses, Private Homes and Condominiums. Top Stone Rolling Sphere Fountains and Marble Art are all one of a kind. Looking for something different and unique to attract attention, stimulate thoughts and desires or just plain relax, then call or email today to get started with pricing information, or a free CD with 1000's of choices. Most choices are shown on the two websites listed below.
Top Stone offers FREE CONSULTATION to: Residential Customers, Landscape and Building Architects, Designers, Decorators, Developers, and Feng Shui Consultants. Outdoor Fountains, Indoor Fountains, Landscape Designers. Buy direct with prices and custom ordering from Top Stone, Inc. Special pricing for full container sales can be quoted. Custom designs for large and small projects are our specialty. Find out how easy it is to order.
For further details please visit Top Stone websites:
http://www.topstone1.com
http://www.marblearte.com
###