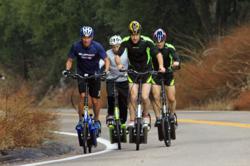 Once established in the lead group, Raymer made a move again to try to rattle Thomas, but this was to be Paul's day. Immediately after Raymer took the lead, Thomas upshifted and took off - no one made a serious challenge to his lead after that.
San Diego, CA (PRWEB) November 14, 2011
ElliptiGO, the creator of the world's first elliptical bike, today announced that former Duathlete of the Year, Paul Thomas, and elite cyclist, Tammy Wildgoose, were the male and female winners of the 2011 World Championships of Elliptical Biking and that Team Canada won the team competition. The annual 11.7-mile race up Palomar Mountain was held November 5th and resulted in record-setting performances for the 4,209-foot climb. "We are thrilled to see the sport of elliptical biking drawing elite and recreational athletes alike and were happy to double the number of participants in the event this year." said Bryan Pate, co-founder and co-president of ElliptiGO. "Paul and Tammy really raised the bar for individual competitors and Team Canada has set a standard that will be tough to beat next year. We are happy to announce Paul, Tammy and Team Canada as the new world champions – they very much earned it."
The second annual World Championships of Elliptical Biking proved to be even more epic than anyone expected, drawing competitors from across the country as well as Canada, Spain and the UK. Favorite Paul Thomas shocked everyone by breaking the previous record held by Australian Damian Barlow by more than 10 minutes, and Tammy Wildgoose overtook favorite Angela Shartel on her way to setting a new mark for women in the event. In the team competition, Team Canada edged out Team USA by just over three minutes to claim the first team title.
Unusual weather conditions added their own element of surprise to the competition. After a prolonged dry spell and warm temperatures, a storm rolled in the night before the race, dumping a considerable amount of snow atop Palomar Mountain and lowering the temperature at the start by almost 20 degrees. For the competitors, this meant racing for the final two miles above the snow-line, making the finish even more exhilarating.
Unlike last year, where the lead pack of 10 riders held together for the first half of the race before the stronger riders pulled away, the pace this year was relentless from the start. Former Duathlete of the Year Paul Thomas (Team USA), cyclist Lukas Binder, and three-time Olympian Steve Cyr (Team Canada), made up the lead group from the start. Elite mountain runner Simon Gutierrez held back in a trailing group with Team USA member and former Runner of the Year Brian Pilcher, along with Team Canada members and former Canadian Marathon Champions Bruce Raymer and Mike Dyon. All four of these riders in the second group assumed that the leaders could not maintain such a blistering pace for the entire climb and decided to conserve their energy for later in the race.
Just before the lead pack reached the turn from Route 76 onto South Grade Road, Bruce Raymer of Team Canada made the jump from the trailing pack to the lead pack, bumping the lead group to four. He expected Mike Dyon to make the move with him, but Mike held back to keep tight to Team USA's Pilcher in the second pack. Once established in the lead group, Raymer made a move again to try to rattle Thomas, but this was to be Paul's day. Immediately after Raymer took the lead, Thomas upshifted and took off, and there were no serious challenges to his lead for the remainder of the race.
"I made a move on Paul [Thomas] to see what he would do," Raymer recalled after the race. "I figured Steve [Cyr] was still feeling good and the two of us could finish first and second if we could drop the two Americans. Paul's response was amazing. Within one minute he had not only retaken the lead, but had opened up a 50-meter gap. I was cranking away in 4th gear as hard as I could and I swear he was in 5th on a 10% grade pulling away. I couldn't believe it."
In the final five miles Thomas opened up a 90-second lead on the other riders and carried it to the finish, setting the new elliptical biking ascent record on the 11.7-mile course at 1:16:23. American Binder beat out Raymer in the final mile, finishing at 1:17:57 to Raymer's 1:18:08. Cyr rounded out the lead group with a time of 1:18:42 for the 4,209-foot climb up Palomar Mountain.
The competition was much tougher this year with seven men besting the 2010 winning time. "This year everything played out much earlier than last year" said Brent Teal, a Team USA member who finished third in 2010 and ninth this year. "I cut almost a full minute off my previous time, but I couldn't keep up with the lead groups. Those guys brought a whole new level of competition to the event and it was great to have them here. Similarly, it was fun to see the field expand to include competitors from Europe and the rest of the country."
In the women's division, ultramarathoner Angela Shartel returned eager to defend her title and Anna Bradley, last year's runner-up, was back to challenge her. They were joined by a much improved field that included cyclist Tammy Wildgoose, triathlete Courtney Baird and current elliptical biking distance record-holder JoAnn Wegert. Wildgoose established a strong pace out of the gate and never let up on her way to capturing the women's title with a record-setting time of 1:39:07. Shartel finished second, followed by Erin Whiting, who held the women's elliptical biking distance record before Wegert broke it last year.
It was truly an epic adventure for everyone involved and the camaraderie throughout the entire event was palpable. The Canadians have vowed to be back next year to defend their title and the Europeans are headed back to recruit teams of their own to give them a run for their money in 2012.
"We're elated with the turnout this year and the caliber of athlete that this event has attracted," said Bryce Whiting of ElliptiGO. "We'd like to congratulate all of the competitors for their inspiring efforts on Palomar Mountain and we can't wait to see what next year's race will bring."
ElliptiGO elliptical bikes are available for purchase in the U.S. at more than 215 retailers and via http://www.ElliptiGO.com. To find a dealer near you visit http://www.elliptigo.com/dealer-locator.
Internationally, ElliptiGO elliptical bikes can be purchased at http://www.ElliptiGO.co.uk (for Europe), http://www.ElliptiGO.ca (for Canada), http://www.ElliptiGO.com.au (for Australia) and http://www.ElliptiGO.nz (for New Zealand).
For more information about the company and its products visit http://www.ElliptiGO.com, or follow them on Twitter @elliptigo and Facebook at https://www.facebook.com/elliptigo.
About ElliptiGO
Based in Solana Beach, California, ElliptiGO Inc. launched the world's first elliptical bicycle in 2010. By modifying the elliptical trainer motion and combining it with the functionality of a bicycle, the ElliptiGO line of bikes delivers a high-performance workout experience that closely mimics running outdoors while eliminating the impact. It provides the most comfortable, fun and efficient way to get out and stay active. The full line of ElliptiGO bikes is available for purchase at select retailers nationwide and through the company's website: http://www.elliptigo.com.
# # #