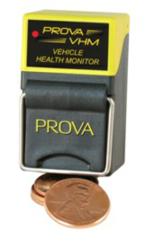 Carbondale, PA (PRWEB) November 15, 2011
Prova Systems a leading developer of wireless OBD-2 VHM diagnostic monitors and trip loggers for vehicle fleet management systems is announcing the availability of its patent-pending VehicleDNA™ system. VehicleDNA™ creates a unique encrypted identity for every car and truck that identifies them to secure access control systems enabling a new level of security for business, government and consumer applications based on secure vehicle identity.
Vehicle DNA™ is designed to help identify and verify vehicles for high security gate access for homeland security purposes, vehicle depot access, vehicle fleet fuel pump systems and home garage entry systems. VehicleDNA™ can also be used in anti-fraud detection systems for usage based (UBI ) and pay-as-you-drive (PAYD) insurance programs and law enforcement.
VehicleDNA™ creates a unique vehicle identity for each car and truck from the combination of unique identification parameters found in every vehicle. The system hashes this data using the US National Security Agencies SHA-256 hashing functions and then encrypts the result using AES-128 bit encryption providing highly secure access verification for all vehicles. It passes the encrypted identifier to an secure identity server for verification.
VehicleDNA™ is a feature upgrade to Prova's existing line of VHM OBD-2 diagnostic monitors and trip loggers and can communicate with any existing security servers using Zigbee or 802.15.4 wireless. The system also supports the inclusion of unique driver identification and private company keys to meet the most exacting security requirements.
As a feature upgrade to the company's Vehicle Health Monitor (VHM) line of OBD-2 vehicle monitors and trip loggers VehicleDNA™ customers also get access to the rich store of vehicle performance and utilization data stored on the VHMs to perform powerful fleet management functions using Prova's free wireless tracking systems.
Prova's VehicleDNA™ also operates with the company's existing 802.15.4 wireless Access Point basestations but it can also communicate directly with a customer's own access control systems. Prova also offers full integration support and development services for customers who want to include VehicleDNA™ in their existing environment or products.
"Secure access control is a new market for Prova and one in which we've seen growing demand," remarked John Collins, President of Prova Systems. "The flexibility of the system combined with our state-of-the-art vehicle diagnostics and trip logging make this a unique product for commercial, consumer and government use."
The product is available today from Prova or Prova's partners worldwide. More information at http://www.provasys.com
ABOUT PROVA SYSTEMS:
Prova Systems designs and manufactures wireless vehicle diagnostics systems for use in fleet management, drive-by emissions testing, secure access controls, usage based insurance programs and other critical commercial applications. Prova's line of wireless OBD-2 vehicle monitors, wireless sensors and analysis products capture real-time operational diagnostics for use in its own products and 3rd party products. The company focuses on aftermarket technology which make consumer and commercial vehicles safer, more fuel efficient and greener. The company is based in Carbondale, PA and sells its products directly and through resellers in the USA and internationally. http://www.ProvaSys.com
# # #