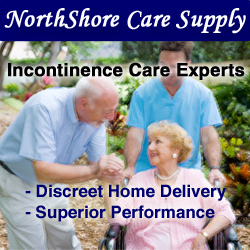 "Incontinence can be embarrassing and difficult to discuss. However, if you know the facts you can effectively manage the situation and improve your quality of life," said Adam Greenberg, President of NorthShore Care Supply.
Northbrook, IL (PRWEB) November 11, 2011
NorthShore Care Supply, a leading provider of home health care products has partnered with Belmont Village in Glenview to provide its residents quality incontinence products. Incontinence affects over 25 million Americans. People who suffer from incontinence often experience emotional discomfort along with the physical discomfort. Many adults with loss of bladder control will isolate themselves for fear of having an "accident" or being ridiculed and experience a loss of self esteem. Residents at Belmont Village are able to maintain their active lifestyle and feel confident and secure with Tranquility incontinence products from NorthShorecare.com.
"At Belmont Village we are able to provide an invaluable service to help our residents that suffer from incontinence," said Ernie Belencion, Director of Resident Care Services. "Residents simply place their order for their supplies with Belmont Village and we handle the rest. Not only do we provide them with an extra convenience, but we provide them a high quality product like Tranquility that is delivered directly to their door, promptly and discreetly."
The National Association for Continence (NAFC) estimates that more than 50% of seniors in nursing homes or assisted living facilities suffer from an overactive bladder. The loss of bladder or bowel control is a medical condition and not a normal part of aging. Once the type of incontinence is determined a successful treatment, cure, or effective management plan for the condition can be established.
"Incontinence can be embarrassing and difficult to discuss. However, if you know the facts you can effectively manage the situation and improve your quality of life," said Adam Greenberg, President of NorthShore Care Supply. "At NorthShore Care we pride ourselves on having a knowledgeable staff that can find the right product to fit your individual need. Whether you have light incontinence or are caring for someone who is completely incontinent, or anywhere in between, we have products that will work for you. Partnering with Belmont Village in Glenview has been a win/win for everyone involved. We are able to provide a service to the residents of Belmont Village that is invaluable: convenient, high quality, competitively priced and discreet."
High performance products, like Tranquility, retain large volumes of urine, prevent leakage, control bacterial growth, and eliminate odor. In addition, they offer a cost-saving advantage because less frequent changing is needed. Choosing the right size to ensure a proper fit and product style is the key to preventing leakage. Using the most appropriate products provides for uninterrupted sleep and improves the quality of life for those who are incontinent. For information on how your healthcare facility can partner with NorthShore Care Supply, please contact us at (800) 563-0161.
About NorthShore Care Supply
At NorthShore Care Supply, we are experts in home care products specializing in incontinence and personal care supplies. We have carefully selected only the top quality brands available. Founded in 2002 by its President Adam Greenberg to offer a better quality of life for its customers, the company provides absorbent incontinence supplies including, adult diapers, underpads, baby diapers, youth diapers, wipes, and mattress protectors and prides itself on award winning customer service and guaranteed discreet home delivery. The company also operates USBedBugs.com which offers bed bug prevention and protection products. Visit http://www.northshorecare.com and http://www.usbedbugs.com for more information.
About Belmont Village
Belmont Village communities are designed for older adults who need assistance with the activities of daily living. Belmont's programs and services are supported by industry-leading best practices and research in the fields of gerontology, hospitality, architecture, and consumer preferences. Residents enjoy chef-prepared meals, housekeeping, transportation, and a host of planned activities including fitness and lifelong learning. A well-trained staff and a licensed nurse at each community provide 24/7 care including medication management and support for incontinence and diabetes. Individuals with memory loss benefit from Belmont's proprietary programs, including the award-winning Circle of Friend® program for Mild Cognitive Impairment and Person-Centered Living® for Alzheimer's Disease. Belmont Village currently operates 20 communities in major U.S. cities including Chicago, Greater Los Angeles, San Diego, San Francisco, Houston, Atlanta, Nashville, Memphis and Louisville. Belmont Village will open its 21st community in Scottsdale, Arizona, in Spring 2012. For more information, please visit http://www.belmontvillage.com or contact Amy Self, Director of Public Relations, at (713) 463-1730.
About Tranquility Incontinence Products (PBE)
Principle Business Enterprises, Inc. was founded 50 years ago, is family owned and operated and is headquartered in Dunbridge, Ohio (Greater Toledo Area). PBE manufactures high performance disposable incontinence products, footwear and advanced absorbent materials marketed under the brand names of Tranquility®-The Home-Caring Brand®, Select® and Pillow Paws®. The company is a key supplier to consumers, caregivers, health care institutions and medical professionals through distributors, dealers and retail outlets. Advanced absorbent materials are sold to manufacturers and developers of health care, industrial, environmental and packaging products. More information is available at http://www.tranquilityproducts.com.
###