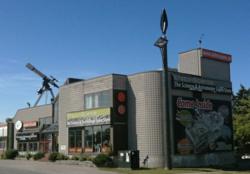 A Geek Gift isn't something that gets played with Christmas morning then collects dust at the bottom of a toy box for the rest of the year
Toronto, Ontario (PRWEB) November 11, 2011
EfstonScience, Canada's largest retailer of science and astronomy products, predicts Geek Gifts will be popular items under the Christmas tree this season, and are responding with a unique range of gift choices for Canadian consumers.
A vast array of educational toys, games and science-related products are on store shelves this year that will tantalize the inquiring mind, pique curiosity and foster experimentation. Best of all, in these budget-conscious times there are plenty of experiment kits, science kits, science fair supplies, puzzles, brain teasers, mind benders, discovery kits and unique, one-of-a-kind items that can be had for less than $80.
"A Geek Gift isn't something that gets played with Christmas morning then collects dust at the bottom of a toy box for the rest of the year," says Nick Efston, president of EfstonScience. "A Geek Gift stimulates the mind, but does so in a way that is entertaining. What's more, they are often unique. Buying a Geek Gift greatly reduces the risk you will be giving a gift the person already has."
Consider the following gifts under $80:

Visit http://www.escience.ca for even more great gift ideas.
About EfstonScience
Family owned since 1970, EfstonScience is Canada's largest retailer of scientific products. Its Toronto superstore at 3350 Dufferin St. is packed with thousands of hard-to-find consumer and industrial science products and has the largest hands-on display of telescopes in North America. The EfstonScience Solar & Wind Power Resource Centre showcases the latest innovations in renewable power, including demonstration installations that showcase the latest in solar and wind technology. EfstonScience also offers more than 10,000 scientific products, kits, supplies and unique gift ideas at its eScience.ca website.
###