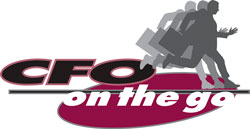 Temecula, CA (PRWEB) November 11, 2011
CFO on the go, a leading provider of construction, services, and real estate management solutions including Sage Timberline Office and Sage Master Builder, today announced the availability of an eBooklet entitled Choosing 'Best Fit' Construction Management Software. The publication is available at no charge to businesses as a resource for navigating the difficult process of selecting a new business management solution.
The 30-page publication, available as an Adobe PDF document, provides detailed information on the process, including: how to determine if you've outgrown your current software, creating a team and a timeline, where and how to begin researching, selecting a vendor, plus checklists and comparison templates.
"We've had the opportunity to work with literally thousands of builders and contractors over the years," said Dennis E. Feidner, CEO of CFO on the go. "We've discovered that many of this firms share some common misconceptions and outdated practices that are potentially hurting their construction businesses. Our intention with the Choosing 'Best Fit' Construction Management Software document it to empower business owners and managers with decision-making data they can use as they evaluate business management software."
The Choosing 'Best Fit' Construction Management eBooklet may be obtained at no charge by calling 800-659-5851, or by visiting http://www.cfosonthego.net.
About CFO on the go
CFO on the go provides leading-edge business solutions to construction, service, and real estate businesses. CFO on the go specializes in the implementation, consulting, and training of Sage Construction solutions including Timberline Office, Timberline Estimating and Master Builder. From strategic planning through implementation and deployment, we apply real-world experience, best practices and a client-centric focus to deliver technologically advanced software solutions that dramatically improve business performance. Learn more at http://www.cfosonthego.net or by calling (800) 659-5851.
###