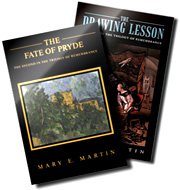 I see these fascinating characters as very real people ...better than imaginary friends of childhood. Why shouldn't they have a chance to speak up? I'm sure they'll surprise everyone--especially me. "
Toronto, Canada (PRWEB) November 11, 2011
In social media, Alexander Wainwright, fictional character in The Trilogy of Remembrance http://remembrancetrilogy.com and Britain's finest landscape artist, has been posting short stories about events occurring in the two novels of that trilogy, The Drawing Lesson and The Fate of Pryde. His perspective may surprise everyone—even his author, Mary E. Martin. Story telling takes on a new dynamic, in cyberspace, where fictional characters captivate readers by springing to life and taking part in the social media-enhanced events.
If you subscribe to the Remembrance Trilogy Blog now, http://remembrancetrilogy.com/blog, you won't miss a word Alexander and other characters have to say. Each day, one subscriber will win a free download of The Drawing Lesson onto any reading device at Smashwords.com http://ow.ly/7pgFO .
Alexander Wainwright will host a Twitter Party and Facebook Event in early December, the details of which will be posted at the Remembrance Trilogy Blog and on Facebook
http://facebook.com/thedrawinglesson
This is an open invitation to attend the Twitter and Facebook events. Everyone will be eligible for contests and prizes—including the Grand Prize of a new Kindle that will be preloaded with Mary E. Martin's five books.
Mary, a strong proponent of free speech, has allowed Alexander Wainwright, Rinaldo and Jonathan Pryde, his antagonists, to express themselves freely and openly on her blog. But why should an author grant her characters such leeway? When asked, Mary said, "I see these fascinating characters as very real people, better than imaginary friends. Why shouldn't they have the chance to speak up? I'm sure they will surprise everyone—especially me."
The Drawing Lesson is the first in the trilogy, in which Alexander Wainwright creates stunning visions of worlds beyond in his landscape paintings. He must deal with his nemesis, Rinaldo, a conceptual artist, who is consumed with jealousy. From London to Venice and then Toronto to New York, where his nemesis awaits him, Alex is in search of his muse.
Now in The Fate of Pryde, Alexander is caught in a fabulous world of creativity and—betrayal. Jonathan Pryde, wealthy patron of the arts, proposes Alex create stained glass windows at his castle in the south of France. Alex hesitates. But Jonathan lures him into his dark world with promises of creative freedom and fame.
At this luxurious castle, Alex finds many elderly, but forgotten writers and philosophers who insist they are free to leave, but never do. Because of his patron's intelligence and kindness, Alex believes he is a kindred spirit. But underneath, he knows something is very wrong. His sense of possible betrayal deepens.
A bunker at the foot of the garden protects Pryde's secrets. Struggling with his own creative visions, Alex is faced with the question—How can the very best and worst of mankind thrive in one man's breast?
Watch the video The Fate of Pryde here http://youtu.be/C7q-i3XCmpA
###