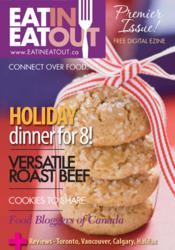 I feel very strongly that EIEO brings together marketers, food bloggers and consumers in a unique and interactive way.
Toronto, Canada (PRWEB) November 15, 2011
Canada's first food-focused digital magazine - Eat In Eat Out Magazine (EIEO) is your one stop (gourmet) shop for delicious news and recipes that are fit to print. From chef and home-economist tested seasonal recipes to trustworthy restaurant reviews and chef interviews, EIEO is for anyone craving reliable, engaging content and who loves to cook at home or dine out.
Created and conceived by Lori Kennedy - the President of Avalon Custom Content, a custom content provider to the food industry spanning almost two decades, Eat In Eat Out Magazine reflects Kennedy's love of cooking and dining. "You can never have too many recipes. Our recipes are approachable, simple and great tasting. Our content is not just for 'super-foodies.' Time-saving use of packaged goods as ingredients is not off-limits. It's for real every-day cooks," says Kennedy.
The inaugural, Holiday Entertaining issue will feature content (and a recipe) from Canadian celebrity chef Christine Cushing as well as a witty sign-off column from food personality, Denise Vivaldo. Kennedy has partnered with a network of home economists, recipe developers, food writers and top Canadian food bloggers to provide a unique voice in the digital food sphere. Amongst these, you'll find Canadian food and wine writer Shari Darling, author of "Orgasmic Appetizers and Matching Wines," who will be sharing some of her recipes in the Holiday issue.
The beauty of EIEO is that it is a truly digital creation with all of the benefits that follow; Kennedy has recreated the comfortable editorial format found in most print magazines while adding the interactive and engaging experience of embedded links, audio, videos, recipe searchability, archived back issues and contests.
With 'Eat In' covering off cozy nights spent at home, the 'Eat out' half of the magazine covers the scene beyond your doorstep by tapping into the regional expertise of food writers for restaurant reviews and chef features from across Canada. "We have created a simple 12-step 'at a glance' restaurant review that gets to the point quickly. What is the vibe, can I bring my kids, what kind of food, and how much?" says Kennedy.
"I feel very strongly that EIEO brings together marketers, food bloggers and consumers in a unique way. I am excited about exploring this new distribution method," says Kennedy, adding, "Up until now, the printed vehicles we produce are mailed out and we rarely get any feedback from consumers. As an online publication, social media will play a key role in spreading the word, building a following, and creating a community of readers, bloggers and marketers that will be immediate and interactive. That's very exciting."
EIEO will be published quarterly with fresh, tasty content added regularly to whet your appetite for food news that will have you coming back for seconds.
# # #