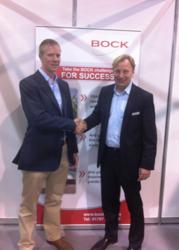 Bock UK Ltd will offer a turnkey solution as experts in silage clamp construction and covering solutions from one source
Essex, England (PRWEB UK) 11 November 2011
The combination of the two companies' expertise brings together more than 90 years' experience in the design, manufacture, installation and maintenance of complete silage clamp solutions, including coverings.
Milbank has been based in Essex for almost 60 years specialising in the supply and installation of precast concrete products and solutions working in construction, agriculture, coastal protection, railways and stadiums.
With 30 years' experience, Milbank's new German partner Böck Silosysteme GmbH is the only provider in the pan-European market to offer a product range of silage clamps and covers from a single source.
Following the introduction of a feed-in tariff for electricity and heat from renewable sources in 2010, the UK market for biogas plants is currently extremely buoyant and the company believes there will be significant UK demand.
Böck installed UK's first silage clamp of its kind at Future Biogas in Norwich and three more have quickly followed in partnership with Milbank due to its existing manufacturing capacity and long experience in the design, manufacture and installation of pre-cast silo solutions. In addition to the UK biogas sector, the partners are also expecting an increasing demand for pre-cast clamp solutions from the UK farming industry.
Sean Milbank, Managing Director of Milbank is optimistic about the partnership and the future of Bock UK Ltd: "The collaboration between two strong partners means a win-win situation for both Milbank, Böck and, most importantly, our clients," says Sean. "Bock UK Ltd will offer a turnkey solution as experts in silage clamp construction and covering solutions from one source. Although the Bock silo system (known in Germany as the traunsteiner silo system) is commonplace in Europe, it is only recently that the UK market has seen the benefits. We are delighted to be able to combine the experience and expertise of two industry specialists to offer our customers significant advantages."
Contact Bock UK at 01787 220560 email: estimating(at)bock-uk(dot)com http://www.bock-uk.com
Editor's Notes:
>Bock UK systems can produce 30% more energy from silage compared to normal clamps and covers
>Bock UK can provides an enhanced working environment for the silaging team
>Slanted silo walls and cambering allow 35% enlargement
>The systems provide reduced temperature fluctuations for optimum storage conditions
>Bock UK systems ensure easy access to dry, useable feed in any conditions
>Bock UK offer one complete concept from construction to covers
>Bock UK provide bespoke solutions for small 'on farm' silaging to complex biogas requirements
>Bock UK are experts in low maintenance, bespoke silage clamp solutions
>Bock UK has 90 years' experience in silage clamp solutions
###