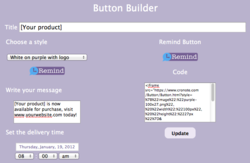 Visitors trust the Remind button because it sends only the reminder they have requested.
Fountain Valley, CA (PRWEB) November 11, 2011
Cronote's latest product, the Remind button, increases Internet sales by reminding customers about upcoming products and events.
The button allows website visitors to easily schedule a reminder about the business and its products. Reminders are 100-character messages sent via email or text message and prompt potential customers to return when they are more likely to make a purchase. The buttons work for advertising new and upcoming products, existing products, business homepages, and sales events.
Remind buttons increase website sales and conversion rates. Visitors want to be reminded, but they don't want to sign up for mailing lists, especially if they are only interested in one product or service. Visitors trust the Remind button because it sends only the reminder they have requested. The temporal nature of a Cronote reminder increases the likelihood that a consumer will make a purchase. The reminder arrives right when the customer and product are ready. SMS text messages are effective because they are read more often than other types of advertising media.
Cronote's new website provides businesses and individuals the ability to create and monitor their own Remind buttons. Businesses may choose from six button styles or use their own image.
Email reminders are free, and text message reminders are $0.05 per message. A simplified pricing model enables individuals and businesses to purchase text message reminders in packs of 20 ($1), 100 ($5) or 200 ($10). Large volume orders are arranged upon request. In comparison, other advertising services are based on the pay-per-click model, with the average click exceeding $1.00.
Cronote is a web-based company established in August 2010. Cronote aims to provide quick and easy ways to schedule reminders (http://www.cronote.com).
###