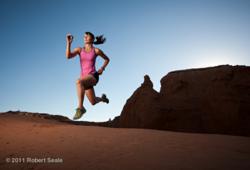 "I couldn't be happier about being back home in Utah, a place where everywhere I look inspires me to stay healthy and keep exploring," says Webb.
Orem, UT (PRWEB) November 15, 2011
The one-of-a-kind Sol Fitness Adventures – combining expert fitness training with adventure travel – now calls Utah home. As Utah continues to rank among the most active States in the Union, Sol's founder Melanie Webb, a native Utahan, has chosen to move back home to base her highly successful adventure business in "The State of Sport."
"I couldn't be happier about being back home in Utah, a place where everywhere I look inspires me to stay healthy and keep exploring," says Webb. Utah's powerful incentives for attracting small businesses were also a major draw for Webb.
Sol Fitness Adventures is the go-to source for both adventure travel preparation and exclusive outdoor Utah fitness trips near Zion National Park and at Sundance Resort. Sol trains outdoor athletes, adventurous travelers, and those who want to become such. Inspired by Webb's Utah upbringing, Sol's unique approach to training the body to enhance outdoor exploration includes customized fitness workouts, researching local culture, climate, and necessary vaccinations, coaching on nutrition, hydration, and supplements, clothing and gear use instruction, and coordinating private pre-trips and training hikes.
Webb is also a former Utah-based wildlife biologist, adding even more value to Sol's travel experiences.
2011 has been a big year for Sol and Founder Webb. Sol received national media attention after launching its website in January, presenting its unique fitness and Utah trips to the public for the first time. Since then Webb has further established her reputation as a featured fitness expert, contributing training tips to local magazines, and Sol's Zion trip has received glowing reviews both on a national and international level.
The Rise of Sol
Webb witnessed the impact of stress and time constraints in her overworked clients -- including bankers, CEOs and even a former Secretary of the Department of Defense -- during her years training in Santa Barbara, California and Washington, D.C. It was then Webb realized the need for a different approach to fitness and the importance of the outdoors and adventure travel to living a healthy and happy life.
"The freedom and solitude of the outdoors presents a challenge to the body and mind that puts life in perspective," says Webb.
Webb then drew upon her former career as a wildlife biologist for the Utah Division of Wildlife Resources to obtain a permit to guide backpackers through the Parunuweap Wilderness Study Area, a remote area outside of Zion National Park. After guiding a number of private trips to the canyon, Webb now makes the trip available to travelers seeking an off-the-beaten-path guided adventure.
About Founder Melanie Webb
Melanie Webb is a Utah-based fitness trainer who specializes in preparing adventure travelers for their quests mentally and physically. Melanie has snowboarded the Andes Mountains in Chile, hiked the Atlas Mountains of Morocco, biked Switzerland's Ementaler valley, rock climbed Rio de Janeiro, Brazil, and braved the elements of the Scottish Highlands. Her expertise has been featured on Good Morning America and FOX Local News in Washington, D.C. and in Appalachian Mountain Club, Mammoth Sierra Magazine, 805 Living, Outside Magazine, Real Simple and more.
###