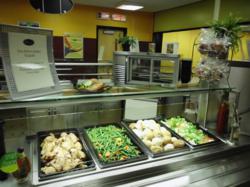 New Britain High School Dinner Program is becoming very successful and is a great outlet for children to receive a warm and nutritious meal after school
Islandia, NY (PRWEB) November 21, 2011
The New Britain High School Dinner Program provides wholesome and delicious meals to any students participating in after school educational programs. This initiative was introduced after the Board of Education, New Britain High School Principal Michael Foran and Whitsons School Nutrition discussed the need to offer balanced meals at no charge after regular school hours as a way to improve the students' overall nutrition and foment healthy food choices.
Although the Dinner Program only started in the month of October, it has already proven to be a success: 4000 tasty and nutritious meals have been served since its inception. According to Jeff Taddeo, Food Service Director at Whitsons School Nutrition, "the program is becoming very successful and is a great outlet for children to receive a warm and nutritious meal after school". The menu is carefully planned to please the sometimes very selective palate of teenagers, yet it follows the nutritional requirements of the National School Lunch Program.
Whitsons School Nutrition provides a wide range of highly customized dining services to public and private schools, with a strong focus on nutritious, high quality menus made from fresh, wholesome ingredients. Whitsons has a long and proud history of excellence and growth since 1979 and currently ranks the 16th largest dining company in the United States (Food Management magazine, September 2011). In addition to school nutrition, Whitsons' scope of expertise and services extends to: culinary development, residential and healthcare dining, delivered meals, corporate dining, emergency dining and vending services.
###