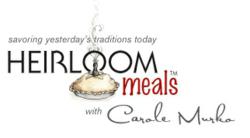 Ken Zuckerman from Pete and Gerry's Heirloom Eggs says,"I was absolutely blown away by her incredible on-screen presence, interaction with such good and comfortable guests."
Stockbridge, MA (PRWEB) November 12, 2011
Carole Murko, Heirloom Meals' creator and Executive Producer, is pleased to announce that through the tenacity and generosity of one of the show's sponsor's, Pete and Gerry's Heirloom Eggs, there are four premiere screenings: one in NYC, Boston, Pelham, NY and Stockbridge, MA. Heirloom Meals' Thanksgiving is a storytelling show about heirloom recipes, food memories and how heritage foods are the connection to our past.
The inaugural screening will take place in New York City at the Anthology Film Archives in SOHO, Saturday, November 12, from 1-3 pm. Murko states, "It is such a great honor to have a premiere of my first show in the place where Ken Burns does his screenings." All the proceed from the screening will benefit the Food Bank of New York City.
Next, on Monday, November 14th, from 5.30-8 pm, the Food Law Society of Harvard Law School in Cambridge, MA will host the premiere as part of a panel discussion about sustainable and responsible food production. The opening panel will focus on sustainable and responsible food production, and will be moderated by Emily Broad, a Harvard Food Law Society professor and Sue McCrory of WBUR's Public Radio Kitchen. Featured panelists include Jesse Laflamme of Pete &Gerry's Organic Eggs, the first Certified Humane egg farm in the country, David Waters, CEO of Community Servings in Boston, a social service agency preparing and delivering 1000 free meals a day with an emphasis on locally sourced farm ingredients, Jennifer Fahey FarmAid and other leaders from companies dedicated to excellence in sustainable food production. The second panel will focus on the powerful themes in the special, moderated by Heirloom Meals creator and host, Carole Murko, and Amy Traverso Yankee Magazine. The panel will also feature Louisa Kasden and Sara Baer-Sinnott , leaders of on-line media portals, blogs and organizations dedicated to the healthy ways people embrace and enjoy food today, with an emphasis on preserving positive and successful aspects from the past.
Then onto, The Picture House in Pelham, NY on November 16th from 7-9 pm where Host, Carole Murko grew up. Murko reflects, "I can't believe the special is going to be shown in a theatre where I saw 'The Sound of Music' when I was a little girl." The 1921 theatre is lovingly restored into a community-based, mission-driven, nonprofit alternative to commercial movie theaters. They show the best in new independent and classic cinema and provide students of all ages with the opportunity to learn about the art, science, and business of film.
The last premiere on November 18th from 6-8 pm will take place at the Norman Rockwell Museum in Stockbridge, MA where one of the segments of the show was filmed featuring Rockwell's iconic thanksgiving painting, Freedom from Want. It is fitting for the last premiere to end in the Berkshires of western Massachusetts where the entire special was filmed by by a crew of Berkshire film industry professionals, including Director and Cinematographer, JP Lipa and producer Chris Lipa of Pittsfield-based Eleven11 . Dave Bilodeau of Pittsfield was the sound recordist and gaffer.
Heirloom Meals is a storytelling show about treasured family recipes, stories, and tips…savoring yesterday's traditions today. The Thanksgiving Special features people from across the country and across cultures, as they talk about their favorite Thanksgiving recipes and memories.  Featured interviews range from a direct descendant of the pilgrims to a newly minted citizen; from a Midwestern housewife to a Southern gentleman to an Italian grandmother. In an interview with a butcher who sells only local pasture-raised meats, we learn the importance of sustainable farming and of buying local food. "At Heirloom Meals, we believe that food is our connection to our past and it is the bridge to our future," said Murko.
Sponsors for the show include heirloom egg producer Pete and Gerry's Organic Eggs; Stonyfield Organic Oikos, the leading organic Greek yogurt; Sears/K-Mart; Hearst Brand Development; KWC-America, a leader in luxury Swiss-made kitchen faucets; The Round Barn, a distinctive Bed and Breakfast in Waitsfield, VT; Nejaimes, wine merchants in the Berkshires and The Moore Family Foundation.
Heirloom Meals' Thanksgiving is scheduled to air in November on various Public Television stations throughout the country. Check your local listing for date and time.
###